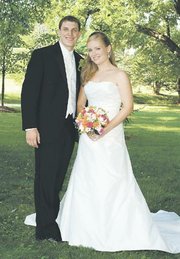 Kevin and Cheryl McCabe of Clifton are pleased to announce the wedding of their daughter, Colleen, to Jeremy Craig, son of Tom and Judy Craig of Charlottesville. The couple was married on June 27, at St. Andrew the Apostle Catholic Church with the reception held at Whitehall Manor in Bluemont.
Colleen is a 2004 graduate of Centreville High School and a 2009 graduate of Virginia Tech where she received a B.S. in Industrial and Systems Engineering. Colleen is currently employed as a cost analyst with Technomics in Arlington. Jeremy is a 2001 graduate of Charlottesville High School and a 2006 graduate of Virginia Tech where he received his B.S. in mathematics. He is currently employed by Fairfax County Public Schools as a math teacher and varsity swim coach at McLean High School. He is also a member of the Teacher Leadership Grant Team that was established to improve student performance in Advanced Placement classes.
The couple honeymooned in Hawaii and now reside in Arlington.