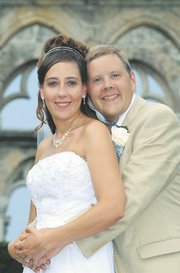 The marriage of Heather Ann Eisinger, daughter of Mr. and Mrs. Roger Eisinger of Fairfax Station, to Michael Jon Wnuk took place on June 22. Wnuk is the son of Daniel Wnuk of Lakeville, N.Y., and Linda Zoltowski of Rotonda West, Fla.
The wedding ceremony was performed at The Cloisters Garden Gazebo at The One & Only Club in Paradise Island, Bahamas. The dinner and dance reception followed at the Sheraton Nassau Beach Resort. Suzy Eisinger of Dallas, Texas, served as her sister's Maid of Honor. College friend of the bride, Shelly Botzenmayer of Charlotte, N.C., was a bridesmaid. The groomsmen were the groom's stepbrother, Craig Zoltowski of Stamford, Conn., and college friend, Luis Castaneda of Arlington. Ring bearer was Michael Joyce, 3, son of the couple's coworker. Cousins of the bride, Judy Jernigan of Winston-Salem, N.C. and Karen Dotson of New Market, read scripture and poetry. The newlyweds traveled to Jamaica for their honeymoon.
The bride is a 1999 graduate of West Springfield High School. She received a bachelor of architecture in 2004 from the University of North Carolina at Charlotte. The groom received a masters of architecture in 2001 from the University at Buffalo. Both the bride and groom are employed by Bowie Gridley Architects in Washington, D.C. They reside in Arlington.
More like this story