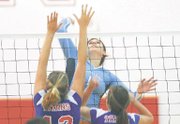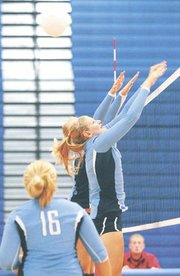 Yorktown's Elyse Bush positioned herself for a kill attempt during game three of Monday's match at Wakefield, but didn't get the opportunity to swing.
After a teammate's dig sent the ball high in the air, the ball ricocheted off the ceiling and fell to the floor for a Wakefield point. Bush could only smile at the situation.
Something had finally slowed her down.
Bush, a first-team all-region selection last season, finished with 19 kills, including eight in game three, as Yorktown defeated Wakefield 3-0 (25-15, 25-10, 25-16) in a National District match.
While Yorktown (4-1 overall, 1-0 district) swept Wakefield, Bush was not pleased with the Patriots' play. The Warriors (0-1 district) led 13-6 in game three before the Patriots scored the next 14 points and 19 of the final 22.
"I got kind of frustrated, so I [told setter] Libby [Kane], 'Just get me the ball,'" Bush said. "There was no way we should have been down" by so much.
Bush got the ball and she responded. The senior had eight kills during Yorktown's 14-0 run.
"She's always an offensive leader that we need," Yorktown coach Brittanie Behar said. "When we play teams like this where she can just hit the ball anywhere and get points, I think it's good for our general morale. … She played excellent."
BUSH, LAST SEASON'S district Most Valuable Player, leads Yorktown with 87 kills. She also has 53 digs and 11 aces.
"Elyse is great," Wakefield coach Daniel Rios said. "You can't be giving free balls to her because she will take advantage."
A Lisa Anderson kill gave Wakefield an 11-9 lead in game one, but Yorktown responded with 12 straight points for a commanding 21-11 lead. Patriot freshman Katie Rock accounted for the final points of the run with an ace and a kill. She finished with five aces.
Kane dished out 24 assists and recorded nine digs.
After Yorktown won game one, 25-15, and cruised to a 25-10 win in game two, Wakefield used a 7-1 run to build a 13-6 lead in game three. Anderson had three kills and Mekdes Kebede had a kill and an ace to help put the Warriors ahead by seven, but they couldn't hold on.
"We had our ups and downs," Anderson said. "We just have to keep working and get better."
Rios, Wakefield's fourth head coach in as many years, said he is trying to improve attitude and energy in the program.
"We're trying to build something," he said. We're working really hard with the freshman team and the JV."
THE WIN was similar to Yorktown's 3-0 (25-19, 25-20, 25-19) victory over T.C. Williams on Thursday: the Patriots came in expecting to win and struggled early to find rhythm.
"It's easy against hard teams to really go after it and play hard," Behar said. "It's less easy against teams that you expect" to beat.
Yorktown trailed in games one and two against T.C. Williams and surrendered an eight-point lead in game three before regrouping. The Titans went on a 9-1 run to tie game three at 16, but a kill by Yorktown's Ashley Rock started 9-3 Patriot run to close the match.
Bush led Yorktown with 11 kills against T.C. Williams. Ashley Rock finished with eight kills and Katie Rock had seven. Kane dished out 25 assists.
After a five-game loss to Westfield on Sept. 8, Behar was pleased Yorktown bounced back with two wins. The Patriots host George Mason tonight, Robinson on Thursday and Mount Vernon on Monday.
"Coming off Westfield was tough," Behar said. "I wish we would have played another tough team right away because … when you play those tough teams and you lose to them that close it sort of nicks at your confidence. I think that playing a tough team after that would have been good, but anytime we get a win it puts us in a good position."