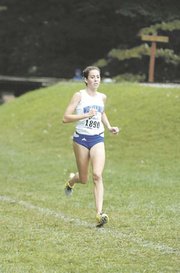 The West Potomac boys cross country team entered Saturday's Monroe Parker meet with a goal in mind: make a statement through team success.
Mission accomplished.
The Wolverines finished first as a team with 122 points, 25 better than second-place Jefferson. Peter Stebbins was West Potomac's top individual finisher, placing 13th with a time of 16 minutes, 7 seconds.
"Winning as a team was definitely the main priority," Stebbins said. "It's nice to run fast, but it's better when it's the whole team involved."
Stebbins said his team was a personal best by eight seconds.
Khoki Bernier placed 15th for West Potomac, finishing with a time of 16:12. Ben Aleixo was 26th (16:27), Peter Coffey 33rd (16:35), Brady Corum 35th (16:40), Max Muir 38th (16:41) and Graham Kolle 40th (16:46).
Stebbins said the Wolverines wanted to show off their abilities.
"I don't want to make it a rivalry, but we really wanted to come out and make a statement [to] South County and Lake Braddock," he said. "They're our two district rivals and … our two main goals are to win district and go to state. Since this is pretty much all the northern region, we really wanted to come out and make a statement … [to] let people know we're kind of a force to be reckoned with this year."
Did they make that statement?
"Yeah, definitely," Stebbins said. "Hopefully."
THE GIRLS TEAM, led by a fifth-place individual finish by senior Kelsey Rosenberg, came in second with 95 points, 18 behind meet winner Lake Braddock. Rosenberg posted a time of 18:39.05.
Julianne Bigler finished 21st for West Potomac, posting a time of 19:20.17. Sarah Jane Underwood was 22nd (19:22.69), Dale Lescher 23rd (19:24.34), Mackenzie Cate 24th (19:26.42), Colleen Boyle 31st (19:43.36) and Samantha Miller 55th (20:24.01).
West Potomac assistant coach Jenn Dietz praised Rosenberg, who the coach said has battled iron issues.
"She's really pushed through a lot for the team," the coach said. "We needed someone up there in the top five and she did that for us. She's really stepped up as a senior. … I think that made the difference in us getting second place — having someone up there. We had a very strong pack in two through six, but we needed a front-runner and Kelsey stepped up and did that today for us."
Dietz said Wolverine coaches have challenged harriers to be more aggressive.
"I wanted to see them go out and compete and try to mix it up," she said. "That's what all the coaches have been saying this season. We want them to go out and try and win races and compete with people, not worry about what spot they are on the team, but worry about who they're beating on other teams."
If the Wolverines could use some more motivation to succeed, look no further than head coach Don Beeby, who is in his 25th and final season coaching the Wolverines. While Beeby said he is looking forward to "turning the page" in his life, the Wolverines are looking to send their coach out in style.
Beeby was attending a wedding in Texas on Saturday, but he was updated about the Wolverines success. While West Potomac is off to a strong start, Beeby said the overall success of the team won't be determined until later in the season.
"The leaves are still green and it's still warm outside," Beeby said. "It counts in late October" and early November.