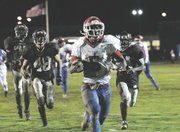 On a night when Mount Vernon's soggy field was left littered with muddy footprints, Robert Carter and Cortez Taylor made the most of their marks.
The T.C. Williams duo rushed for 313 yards and five touchdowns as the Titans rolled to a 33-0 victory over Mount Vernon on Friday at Melvin B. Landes Stadium.
With quarterback Joe Hargrove missing his second game due to a fractured non-throwing wrist, T.C. Williams once again relied heavily on the ground game. But this time the Titans, who lost their opener to Robinson, cruised past a Mount Vernon team which has been outscored 75-3 in two games.
T.C. Williams (1-1) rushed for 369 yards and finished with 448 yards of total offense. Carter rushed 11 times for 162 yards and three touchdowns, while Taylor carried 15 times for 151 yards and two touchdowns.
THE TITANS used different combinations in the backfield, rotating Carter, Taylor and John Bray at quarterback. Bray is considered the true quarterback of the trio. Carter, originally a safety, and Taylor, originally a receiver, were given different roles once Hargrove broke his wrist.
Carter took the snap on T.C. Williams' first play from scrimmage and rushed for five yards. Bray then entered the game, took the second snap and handed off to Taylor, who was lined up at running back. Taylor turned up field and scampered 46 yards for a touchdown and a 7-0 Titans lead.
Taylor's touchdown set the tone for an evening of big plays on the ground. The senior put T.C. Williams up 13-0 late in the first quarter when he scored on a 41-yard run.
"We have a quarterback, but he's not confident [in] himself yet. He's got to get better at it, so we've got to prove that we can run to be a successful team," Taylor said. "We played as a team. Thirty-three, zero proves it all."
Carter scored on touchdown runs of 32 and 18 yards, respectively, in the second quarter, giving the Titans a 26-0 halftime lead.
Carter didn't wait long to strike in the second half. After a penalty on the Titans' first play of the third quarter pushed them back to their own 21-yard line, Carter took the snap and sprinted up the right sideline for a 79-yard touchdown.
Neither Carter nor Taylor attempted a pass. Bray completed 4 of 6 passes for 74 yards.
T.C. Williams will continue using the quarterback-by-committee approach during tonight's game against Oakton, and likely until Hargrove is able to play again.
"We've got a lot of speed, so we use it," Carter said. "That's why we've got the three-back system going on. We just attack the defense and try to beat them with our speed most of the time. Until our quarterback comes back, that's what we're going to have to rely on."
Titans head coach Dennis Randolph said Hargrove had a doctor's appointment Tuesday, and the quarterback mentioned his desire to return to the field by next week. The coach said he is handling Hargrove's potential return with cautious optimism.
Hargrove fractured his right, non-throwing wrist Aug. 27 during a scrimmage against Centreville.
REGARDLESS of who plays quarterback, the Titans figure to be a dangerous team if they can mimic Friday's big-play production.
"They played really well. I was just excited for them," Randolph said of the Titans. "We have some really good athletes and they needed that to build them some confidence. … [Taylor] and Robbie both are taking more snaps than we envisioned. We really wanted to be able to throw the football a little bit with Joe. … John last week [against Robinson] didn't play that well and really didn't have a real good week of practice, but tonight he threw the ball like we expected. … If we can throw the ball a little bit and keep [the defense] off balance that will help open the running game up."
Though Randolph didn't predict giving Carter and Taylor as many snaps as they've taken, he said the duo would have had chances to make plays even if Hargrove had remained healthy. Changes have been made to the team's offensive balance, but nothing drastic has been done schematically.
"We're not experimenting," Randolph said. "This would have taken place if John or Joe was the quarterback. … We're probably using Robbie a little more at quarterback than we would have because we were going to use Cortez, but now that Joe's not there, we have a little more emphasis on the run.
"… We're actually adding some stuff and emphasizing more of what we have in our playbook because of who we've got back there. … We didn't have to go change a bunch of things. We've added some things that we would probably not have normally run."
Randolph said he is uncertain who will start at quarterback tonight, though he has specific plays designed for when Carter and Taylor are in the backfield.
Bray produces the greatest passing threat of the three Titan quarterbacks, but the senior is better suited for the intermediate passing game, rather than stretching the field with the deep ball. With no real threat of a vertical passing game, opposing defenses are likely to cheat up to stop the run.
The result: the T.C. Williams offensive line will have to open running lanes against defenders expecting as much.
But if the O-line, which consists of Jay Whitmire, Luke Dorris, Aaron Tovsky, Anthony Zamora and Jose Urrutia, can create space, Carter and Taylor have the speed to take it the distance from anywhere on the field.
"I rely on my line and my blockers," Carter said. "[The defense] can bring everybody up. If my blockers block then we're going to get the job done."
Kickoff for tonight's game against Oakton (2-0) is scheduled for 4:45 p.m. at Parker-Gray Stadium.