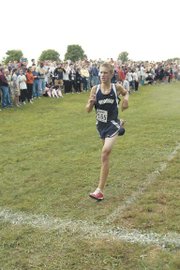 W.T. Woodson High School sophomore cross country runner Paul Gates hoped that he could use Monroe Parker Invitational at Burke Lake Park on Sept. 12 as a test of his abilities against some of the region's best runners.
Finishing with a time of 16:04, Gates turned in the best time of all the Woodson boys. His 12th place finish helped him gauge where he stands with the Patriot District's best.
"I stayed with the leaders for the first mile," he said. "In the second mile they pulled away, but in the third mile I just went all out."
WITH STIFF COMPETITION from Chantilly High School's Chris Foley and other Patriot District rivals from Lake Braddock Secondary School and West Springfield, Gates' strong effort was enough to keep pace with the tournament favorites.
"I just wanted to go out there and run my race," he said. "I was able to run the way I wanted to."
Though he didn't place in the top 10, the sophomore's cross country career is bright. Woodson's coach, Casandra DeVaughn is looking for Gates to be a leader this season.
"He made a major improvement today," DeVaughn said. "He's a sophomore and he is our No. 1 varsity runner. We're expecting him to perform well."
Last season Gates finished 16th at the district tournament and ran a 16:31 at regionals.
While Gates was Woodson's top performer, DeVaughn quickly pointed out that many members of her young team exceeded expectations, giving the Cavaliers hope to compete in the historically strong Patriot District.
"We have a lot of new faces this year, but this was a great way to start out the season," DeVaughn said. "Our freshmen started off strong and now we're just looking for kids to work hard and step it up. We're in a good place for the season."
The Cavalier boys finished in eighth place in the team competition with 269 points. The girls finished 11th with a score of 338.
With one race completed this season, Gates said he's ready to use what he learned in the race to improve.
"I need to improve my endurance and work on my speed," he said. "[The Patriot District] is tougher and we all need to step up to meet the demands of the district."
Another competitor, Robinson Secondary School, used the Monroe Parker Invitational as a way to gauge where it stands in the Concorde District this season.
"We lost our top two girls from last year, but I got some encouraging signs from this race [about our team]," Head Coach Jeremy Workman said. "We lost four of our seven runners from the boys team but I was encouraged to see our front runners step up today."
THE ROBINSON GIRLS finished fifth overall in the team competition. Junior Taylor Crosson placed 11th with a time of 18:58. Sophomore Barbara Platenberg was the only other Ram girl to place in the top 25, finishing 14th with a time of 19:09.
In the boy's race, the Rams finished seventh overall with junior Nick Reed ranking seventh with a time of 16:03 for the only top 25 finish for a Robinson boy.
"We still have a big gap between our runners' [times]," Workman said. "It's big enough to run a truck through, so we have to fix that this season."