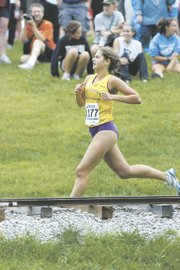 Lake Braddock Secondary School senior Liana Epstein wobbled with each step after finishing first overall with a time of 17:53 in the girls' varsity cross country race at the Monroe Parker Invitational at Burke Lake Park on Sept. 12.
Pacing back-and-forth to avoid muscle cramps, the exhausted senior slowly collected herself before taking time to think about her latest triumph.
"My plan was not to go all out, but to try to be controlled," the reigning regional champion said. "I just kind of stuck my feet in the water to get a feel of what I could do. Then I picked it up every mile."
EPSTEIN entered the final leg of the 2.98-mile race with a commanding lead, but it was a crucial pass during one of the courses' most difficult stretches that Epstein overtook West Springfield High School's Paige Kvartunas to gain the lead.
"It was crowded going through the woods and the race started to spread out along the pavement," she said. "There was a huge gap between [us], so I picked up the pace to catch her."
Epstein's familiarity with the Burke Lake course didn't hurt. The Bruins regularly train at Burke Lake and it is regarded as their home course.
"I know my weaknesses and strengths when it comes to running this course," she said. "I have more leg speed than the other girls and I know when to use it here. It helps in the last parts [of the race] when you have to finish strong."
Epstein's strategic finish helped the Lake Braddock girls earn first place in the team competition with a score of 77. Head Coach Michael Mangan said that this is just the start of a strong season for the senior and her team.
"We're a long way from her best performance," Mangan said. "That will come at the end of the season. She hasn't had her best race yet."
Other top runners for the Bruins' girls team were senior Kelly Hagan, who finished ninth overall with a time of 18:52, and senior Amanda Parker, who rounded out the Bruins' girls top finishers in 12th place with a time of 19:03.
"I'm proud of the girls, they really worked hard out there," Mangan said.
THE BOYS' TEAM also had a strong day on the course. The Bruins' boys finished third overall in the team competition with a score of 161. Senior Alex Clark finished fourth overall with a time of 15:45. Junior Luke Sohl finished eighth for the Bruins with a time of 16:03 to round out the top finishers from Lake Braddock.
"[Both teams] had a great day," Mangan said. "We know where our conditioning is and I'm excited about the season."
Another competitor, Robinson Secondary School, used the Monroe Parker Invitational as a way to gauge where it stands in the Concorde District this season.
"We lost our top two girls from last year, but I got some encouraging signs from this race [about our team]," Head Coach Jeremy Workman said. "We lost four of our seven runners from the boys team but I was encouraged to see our front runners step up today."
The Robinson girls finished fifth overall in the team competition. Junior Taylor Crosson placed 11th with a time of 18:58. Sophomore Barbara Platenberg was the only other Ram girl to place in the top 25, finishing 14th with a time of 19:09.
In the boy's race, the Rams finished seventh overall with junior Nick Reed ranking seventh with a time of 16:03 for the only top 25 finish for a Robinson boy.
"We still have a big gap between our runners' [times]," Workman said. "It's big enough to run a truck through, so we have to fix that this season."