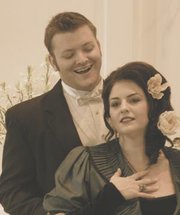 The first season of the Repertory Opera Theater of Washington promises to be a wonderful collaboration of artistry, talent, and classic operas from some of the world's greatest composers. The first performance of the season is Giuseppe Verdi's "La Traviata," the story of an ill-fated love between a courtesan named Violetta, and a young nobleman named Alfredo.
One of Verdi's masterpieces, "La Traviata" is most famous for the opening chorus, Libiamo ne' lieti calici, (a.k.a. the "Drinking Song") a flirtatious scene between Violetta and Alfredo while the other partygoers drink in merriment, and Di Provenza, in which Alfredo's father sings to him of his family back in Provence.
The cast of "La Traviata" artfully pulls the music off the page to bring Verdi's masterpiece to life. Come see the Repertory Opera Theater of Washington's production of "La Traviata" on Sept. 18-19 at 8 p.m. at Immanuel Church-On-The-Hill, 3606 Seminary Road, Alexandria. Tickets are $20 General Admission, $15 Student/Senior. For presale tickets, call 571-403-0814.