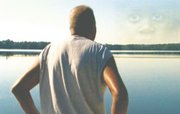 Opening Night Event: "Contrast"
Simultaneous "Silent" Film Screenings, Live Music, Open Artist Studios
Thursday, Sept. 24, 6 p.m. – 9 p.m.
Torpedo Factory Art Center, 105 N. Union Street, Alexandria
Free
Festival Film Screenings and Programs
Friday, Sept. 25, 2009, 7 p.m. – midnight
Saturday, Sept. 26, 2009, 10 a.m. – midnight
Sunday, Sept. 27, 2009, 10 a.m. – 5:30 p.m.
George Washington Masonic Memorial, 101 Callahan Drive, Alexandria, VA
Day Pass $10 or $15 at door/ Festival Pass $25 or $35 at door
Buy tickets online at www.AlexandriaFilm.org
Highlights
Friday, Sept. 25:
7:15 p.m.: "Rumba"
Synopsis: Teachers in a rural school, happy couple Fiona and Dom have a common passion: Latin dancing. One night, after a glorious dance competition, they have a car accident and see their lives turned upside down.
9 p.m.: "Clean Mic: Laughing Until It Hurts"
Special Guests: Will Gorham, Director and Writer
Freddi Vernell, Comedian
Sam Beamon, Comedian
Synopsis: "Cean Mic" is an entertaining, thought-provoking journey into the realities facing ethnic comedians performing in American comedy clubs.
11 p.m.: "Idiots and Angels"
Synopsis: In Bill Plympton's newest animated feature film, a morally ambiguous man spends his days at a dead-end job and his nights in an unfriendly dive bar. And then, one morning, a pair of wings begins to sprout from his shoulders. Filled with the Academy-Award winning animator's trademark weirdness and visual fluidity, this film is a surreal masterpiece.
Saturday, Sept. 26:
7 p.m.: "Yoo-Hoo Mrs. Goldberg"
Special Guest: Aviva Kempner, Filmmaker
Synopsis: A humorous story of television pioneer Gertrude Berg, creator, principal writer, and star of "The Goldbergs," a popular radio show for 17 years, which became television's first character-driven domestic sitcom in 1949. Berg received the first Best Actress Emmy and paved the way for women in the entertainment industry.
Sunday, Sept. 27:
11:30 a.m.: "After the Storm"
Special Guest: Hilla Medalia, Filmmaker
Synopsis: A film that follows the production of the musical "Once on this Island" in New Orleans, from auditions through performances and also includes the story of each young actor's life in the wake of Hurricane Katrina.
1:45 p.m.: "Crude"
Special Guest: Steven Donziger, attorney featured in the film
Synopsis: The inside story of the infamous "Amazon Chernobyl" case, Crude is a real-life, high-stakes legal drama, set against a backdrop of the environmental movement, global politics, celebrity activism, human rights advocacy, the media, multinational corporate power, and rapidly-disappearing indigenous cultures. Crude was nominated for the Grand Jury Prize at this year's Sundance Festival. Film by Joe Berlinger.
4:15 p.m.: "Redemption Stone"
Special Guests: Tom Lewis and Tom Dziedzic, Director/Producer
Synopsis: Jury Prize Award Winner. Redemption Stone introduces Tom Lewis, a storyteller of quiet power, who recounts the social upheaval and rebirth that shape his unique American journey. A life-altering vision inspires Tom to open a place called The Fishing School and to turn hardship into hope for the children in his community.
Go to the Web Site: www.AlexandriaFilm.org *