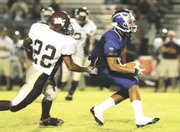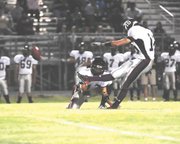 The West Potomac football team put on an offensive clinic during its season opener against rival Mount Vernon on Sept. 3 and cruised to a 42-3 victory at WPHS.
West Potomac's no-huddle spread attack accounted for 312 yards in the first half and helped build a 35-3 advantage before halftime. The Wolverines finished with a 394-46 advantage in total yards.
West Potomac quarterback Colin Mathewson completed 17 of 28 passes for 295 yards and four touchdowns. Receiver DeAndre Essex caught eight passes for 194 yards and two touchdowns, and running back Darel Layne rushed 13 times for 79 yards and a pair of touchdowns.
"We executed really well in the first half," Essex said. "It's a good first win but we've got to work hard next week in practice."
West Potomac (1-0) led 21-3 before putting the game out of reach with two touchdowns in the final three minutes of the opening half.
Mathewson hit Essex on a slant route for a 12-yard touchdown, putting the Wolverines ahead 28-3 with 2:26 to play in the second quarter. The pass was set up by a 16-yard run from running back EJ Johnson.
Mount Vernon (0-1) moved the ball into West Potomac territory on its ensuing possession, but fumbled the ball away to the Wolverines on the 32-yard line with 50 seconds remaining. West Potomac responded with a five-play, 68-yard touchdown drive, which lasted 29 seconds. The drive was capped with a 32-yard pass from Mathewson to Daryl Copeland, who made a leaping grab over a Majors defender near the end zone.
The West Potomac defense held Mount Vernon to six first downs and seven rushing yards. Wolverine linebacker Shakil White finished with three sacks and two fumble recoveries.
"We played good. We were aggressive, we attacked," White said. "I loved it."
Colin Amerau's 38-yard field goal in the second quarter accounted for Mount Vernon's points.
"He's going to be a weapon for us," Mount Vernon coach Tom Glynn said before the season of Amerau. "He's pretty good. He's been working with us for four years. … He's starting to come around real good."
Sean Stewart had one catch for 39 yards for the Majors, and Kenneth Harris totaled 39 rushing yards on 11 carries.
Shawn Lee had six catches for 39 yards and a touchdown for West Potomac.
West Potomac travels to take on Westfield on Friday. Mount Vernon will host T.C. Williams.