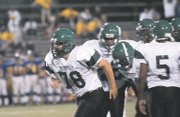 Facing fourth-and-nine in the fourth quarter, Wakefield quarterback Vincent Roberts kept the football on an option right, spun away from a Lee defender and scampered for 25 yards and a first down.
Four plays later, Roberts again kept the ball, this time on a quarterback sneak from the Lee 1-yard line, and surged across the goal line for a Warriors touchdown.
The good news for Wakefield: Roberts' runs highlighted an 11-play drive, which produced six points and included three first downs.
The bad news for Wakefield: The fourth quarter drive produced the Warriors' only points and first downs of the evening.
Wakefield struggled on both sides of the ball Friday.
MEANWHILE, Lee buried the Warriors with five second-quarter touchdowns en route to a 38-6 victory at WHS during the season opener for both teams.
Offensively, Wakefield was limited to 64 yards, 59 of which came on its final drive. Roberts led the team in rushing with 29 yards on three carries. Starting quarterback Drew Powell, a sophomore, completed 6 of 20 passes for 21 yards and was intercepted once. Powell had several passes dropped by receivers.
Defensively, the Warriors (0-1) allowed 38 first-half points.
The Warriors have 13 seniors listed on their 47-player roster leaving coach Keith Powell with little in the way of experience to help turn around a struggling program. Wakefield has won fewer than four games in each of the last five seasons.
Opening the 2009 season against a talented Lee team didn't make things any easier for Wakefield. The Warriors held the Lancers (1-0) scoreless in the second half, but Lee coach Rob Everett had already pulled quarterback Greg Lopez and running back Idreis Augustus out of the game. Lopez completed 7 of 8 passes for 143 yards and three touchdowns, while Augustus rushed for 125 yards and two touchdowns and caught three passes for 81 yards and two scores.
Powell said he told his players: "They played a better second half. They showed a little pride. They didn't lie down. They kept fighting, so that was good."
Powell said the junior Roberts, who scored the Warriors' lone touchdown after taking over at quarterback, has come a long way.
Roberts is a "phenomenal kid," Powell said. "He was a kid just last year that the team didn't believe in him at all. Now when he comes in [as the second] quarterback … they believe in him, so that's huge. I try to use those guys for what they do best. Vincent runs a better speed option than Drew."
WIDE RECEIVER/safety Dashawn Grady, a Wakefield senior captain, said the Warriors need to improve their first-half performance. On Friday, Lee scored a touchdown on its opening possession and scored four of its five second-quarter touchdowns on plays of more than 30 yards.
"It was real rough," Grady said. "We've got a lot of young guys. We were kind of lost, not really sure what we were doing. … We need to have the intensity in that first half instead of trying to bring it up in the second half. That's what the old Wakefield normally did. We let the first half slide away and try to pick it up in the second half and by then it's too late."
Wakefield's Boubacar Diallo rushed seven times for 23 yards and Luca Cagianesa caught three passes for 13 yards.
Leading 6-0, Lee took the game over during the second quarter. Augustus scored on an 8-yard run to open the quarter, giving the Lancers a 12-point advantage. After Wakefield missed a field goal, Lee got the ball on its own 20; Augustus exploded up the middle of the field for an 80-yard touchdown run.
Lopez found Augustus for a 32-yard touchdown pass on Lee's next possession, giving the Lancers a 24-0 lead.
Lee fumbled the ball away on its next possession, but wouldn't be denied for long. Facing third-and-19 during the Lancers' next possession, Lopez connected with a wide-open Augustus for a 37-yard touchdown.
LOPEZ AND AUGUSTUS "are the best out there — anywhere," Everett said. "The great thing about them is that they have the ability to make something out of nothing."
Lee added a 38-yard touchdown pass from Lopez to Mikquan Johnson on the last play of the first half.
Jazmier Williams rushed 12 times for 74 yards and a touchdown for Lee.
Wakefield hosts Dominion at 7:30 p.m. Friday. Dominion is off to an 0-2 start, losing to Loudoun Valley and Ballou by a combined score of 87-9.
Powell said the Warriors are aiming for a 5-5 record in 2009, which would be a two-game improvement from last season.
"When we looked at the schedule, we just felt like there's five teams that we should be able to beat if we perform — Robert E. Lee wasn't one of them," Powell said. … "We're going to keep our heads up and keep playing. This is [my third year as head coach]. We're just bound and determined to turn this program around.
"We're going to be all right."