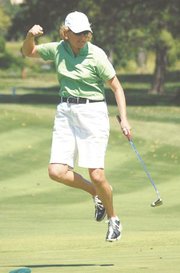 To quote a well-known catcher-philosopher, it was "déjà vu all over again" on Sept. 3 when Mount Vernon Country Club golfers won the Virginia women's state team championship. The win was the club's second team title in a row and the fourth in the past nine years.
Twenty teams entered the three-day event at Belle Haven Country Club. Medal play in the first round resulted in five flights with four teams each. In the final two rounds of match play, each club fielded three two-woman teams that played four-ball matches for a point a hole. On the last day, Mount Vernon swept all three of its matches and won the championship flight over Country Club of Virginia (Richmond), 30-24.
"We really prepared for this tournament," team member Katie Cox said. "We created maps of each green to better understand how to putt possible cup locations."
Another player, Debbie Simpson had devoted separate practice sessions at Mount Vernon to specific shots she expected to play at Belle Haven. The host course, for example, features deep bunkers, so she worked on getting the ball up quickly with a lob wedge.
"All of that paid off," she said afterward, smiling broadly.
Simpson played her bunker shot stone dead on the 18th green to secure a halve and a one-shot win with teammate Shawn McCullough.
Mount Vernon displayed considerable team chemistry, as well as creative pairing. Simpson, a systems engineer for Lockheed Martin, has played for years with McCullough, a Boeing software engineer. Their approach seemed particularly precise and analytic. Cox, a financial analyst at the Federal Reserve, paired with Joan Gardner, an executive with BlueCross BlueShield, and they steered clear of costly mistakes. Lawyer Susan Podolsky and FBI special agent Kim Franks were keen on the rules of golf and the need for orderly play.
Belle Haven's team played in the first flight, but lost in the first round of match play. Team members included JoAnne Domson, Nancy Duncan, Joan Flippin, Arline Hoffman, Heidi Smith, and Ruth Ann Verell.