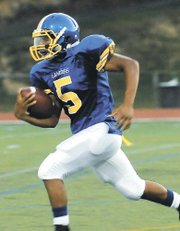 The Lee football team scored five second-quarter touchdowns, including four by running back Idreis Augustus, en route to a 38-6 victory at Wakefield on Friday, Sept. 4.
Augustus scored on runs of 8 and 80 yards and receptions of 32 and 37 yards, respectively, during the second quarter. The senior finished with 125 rushing yards on six carries and three receptions for 81 yards.
Lee quarterback Greg Lopez completed seven of eight passes for 143 yards and three touchdowns, all in the first half.
Lee coach Rob Everett praised Augustus and Lopez's efforts. "The great thing about them is they have the ability to make something out of nothing," he said.
Leading 24-0, Lee (1-0) blew the game open during the final moments of the first half. Facing third-and-19, Lopez connected with a wide-open Augustus for a 37-yard touchdown and a 31-0 advantage with 1 minute remaining.
Augustus credited coaching for getting him so wide open.
"We've got to thank the offensive coordinator for that, (Brian) Magaha," Augustus said. "He just called the right plays and I was just there at the right moment. I just caught the ball. I didn't really do anything special."
Jameel Pitt intercepted Wakefield quarterback Drew Powell on the second play of the Warriors' ensuing drive, setting up Lee on the Wakefield 43 with nine seconds to play. After a penalty against the Warriors placed the ball on the 38, Lopez found Mikquan Johnson wide open in the end zone on the final play of the half, giving the Lancers a 38-0 advantage.
Jazmier Williams rushed 12 times for 74 yards and a touchdown for the Lancers.
Wakefield scored its lone touchdown on a 1-yard run by quarterback Vincent Roberts with 2:08 remaining in the fourth quarter. The Warriors (0-1) picked up their initial first down of the contest eight plays earlier.
The Wakefield touchdown was set up by a 25-yard run by Roberts on fourth-and-9. The junior kept the ball on an option right and spun out of the grasp of a Lee defender.
"I feel like Robert E. Lee is one of the better teams we're going to play," Wakefield coach Keith Powell said.
Roberts led Wakefield with 29 rushing yards on three carries. Drew Powell completed 6 of 20 passes for 21 yards.
Lee hosts Hayfield Friday, Sept. 11, at 7:30 p.m.