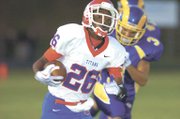 T.C. Williams High School Head Football Coach Dennis Randolph stood outside the team buses following a 36-23 loss to Robinson Secondary School on Sept. 3, proud and disappointed.
For one half, the Titans looked like they could pull off an upset of a Robinson team that hopes to contend in the Concorde District. The second half, however, told a different story as fumbles and failure to move the football down the field spoiled the upset attempt.
"I've got mixed feelings," Randolph said. "We started out really fast and then Robinson caught up with us. I'm disappointed that we made a lot of mistakes that we shouldn't have."
T.C. Williams opened the game with a 60-yard touchdown run by Cortez Taylor. Taylor followed that effort with a kick-off return touchdown for 90 yards and gave the Titans an unexpected 14-7 lead.
The strong offensive effort dwindled as the game went on and the Robinson defense held the Titans scoreless in the second half. The Titans also had a total of five fumbles, two off of errant pitches that further hampered the offense.
"In several situations, we didn't convert on third down and we didn't hit open passes," Randolph said. "We just didn't execute the way we should have. We've got to go back to the basics, but I think we just got frustrated we couldn't move the ball."
Adding to the Titans' troubles, second string quarterback John Brey, who was replacing injured quarterback Joe Hargrove, went down with a minor injury in the second half.
"He had a muscle strain and he couldn't give it his all," Randolph said. "[Brey] didn't play as well as we would have liked. In this offense, you have to move down the field and score."
Hargrove, an ESPN.com college prospect, is not expected to return from his fractured wrist injury anytime soon.
"We got the rug pulled out from us when [Hargrove] got hurt," Randolph said. "He can move down the field well. It could be three or four weeks before he has a chance to come back, but it could be six to eight weeks total."