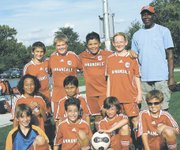 <b>Rebels Lose But Improve</b>
Defensive penalties and mistakes on third and long situations spoiled Fairfax High School's football season opener on Sept. 4 as the Rebels lost to W.T. Woodson High School 33-14.
"We played [well], but we made some mistakes that allowed Woodson to keep some drives alive," Fairfax Head Coach Chris Haddock said. "We had key penalties on fourth downs and gave up two big third and long situations."
Haddock said that had the team corrected the mistakes, the outcome of the game might have been different, but was pleased with the progress his team is showing.
"We are able to move the ball on the ground," he said. "We're improving. The first game is not indicative of how the rest of the season will go."
Junior Marcus Bailey was singled out by Haddock as one of the team's top players in the game. Bailey rushed for 143 yards, one touchdown and had an interception on defense.
"He was just great for us on both sides of the ball," Haddock said. "He led us down the field and his interception was a key play in the game."
The Rebels' next game is against Robinson Secondary School (1-0) on Sept. 11.
<b>Annandale Soccer Team Wins FPYC Patriot Cup</b>
The ABGC (Annandale Boys & Girls Club) United 98 White kicked off the Fall 2009 season at the FPYC Patriot Cup Tournament over the Labor Day weekend.
The Under 11 Boys travel soccer team with players from Annandale, Falls Church and Fairfax defeated squads from Burke, Springfield and Vienna outscoring their opponents 13-5 to retain the Cup for the second straight year.
<b>Paul VI Volleyball Streaking</b>
The Paul VI High School women's varsity volleyball team improved its record to 2-0 after it defeated Holy Cross Regional Catholic School 3-1 on Sept. 2.
In the first match, Paul VI lost 25 to 16. The game served as a wake up call to the team.
Paul VI then went on to win the second match 25 to 14 and the third match 25 to 19.
The fourth match went into overtime with the Paul VI emerging as the victor 30 to 28.
The team heads to Richmond for the Showcase Invitational on Sept. 11 and 12.
<b>Church Group Host Golf Tournament</b>
The Fellowship of Christian Athletes (FCA) will be hosting its annual NOVA FCA Golf Classic at South Riding Golf Course on Monday, Sept. 28.
The event is one of the FCA's main fund raisers for the year and the group hopes to raise enough money to get two new full time area representatives in area schools to work with athletes and coaches.
More information about the tournament and the FCA can be found at www.novafca.org.