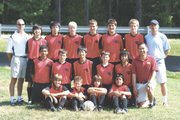 <b>Dynamo Reach Finals In First Tourney</b>
The Vista Dynamo, a newly formed U14 boys soccer team featuring players from Centreville and Clifton played in the finals of the Prince William Soccer Toys for Tots tournament this Labor Day weekend.
The team defeated several National Capital Soccer League teams including the No. 1 placed team on the qualifying day.
The final match was a 3-0 loss to the Winchester United.
By making the finals in the team's first tournament, the Dynamo have made their mark in the soccer community.
<b>Panthers Take Top Honors at Sun Cup</b>
The Chantilly Panthers U13 girls soccer team claimed the championship trophy at the Sun Cup Tournament in Virginia beach on Aug. 23 and 24.
The girls posted a 3-0-1 record while scoring 12 goals and only allowing three goals against. The squad consisted of girls from Fairfax, Chantilly, Centreville and Oakton.
The Panthers claimed the championship after a 0-0 tie with the Virginia Rush Swoosh team. Another exciting match was when the Panthers overcame a 2-0 deficit against the Frederick Premier team by scoring three goals in the second half.
<b>Glory Days Grill Bowl</b>
On Sept. 11 and 12, Southwestern Youth Association will hold the 8th annual Glory Days Grill Bowl at E.C. Lawrence Field in Centreville.
Teams from throughout the Fairfax County Youth Football League will play teams from SYA in 30 bowl games held throughout the day.
The event will also feature former Redskins great Brian Mitchell signing autographs, the Redskin's "Hogettes", a silent auction tent with signed memorabilia, concession stands serving football food and vendor tents selling commemorative items and game day programs.