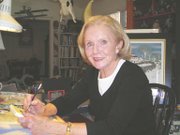 Some of Pat Palermino's ideas for paintings come to her in dreams. Sometimes she's inspired by her travels up and down the east coast or the familiar sights in and around Alexandria.
But whatever the source or subject, the paintings all share her signature bold, bright colors and touch of playfulness.
"A lot of people tell me they like the colors," said Palermino. "They may be too much for some people, but I like bright colors," she notes while pointing out the bright red counter in her white kitchen with the colorful collection of antique advertising signs adorning the walls.
Palermino describes herself as a self-taught contemporary folk artist and her work as humorous, whimsical and always a lot of fun: "Even the historical buildings have something fun going on in the painting."
Palermino recalls her talent for drawing started to show up in first or second grade.
"All through school," she said, "teachers would give me special assignments to make posters for school events because they all knew I could draw."
By her early teens, she had added painting to her artistic repertoire.
But when it was time to go off to college, even though she loved art, Palermino chose a Catholic school for nursing.
"They didn't have art classes," she said. "But there was a place where some of the nuns used to paint, and we'd sneak up there and finish their work," she added with a mischievous grin.
Palermino worked several years in nursing and public health. She first came to Alexandria in 1971, moving often with her Air Force career officer husband and three children. But they always returned to Alexandria.
"I love Alexandria. I love the look and feel of it — the water, the people, good restaurants — just a lot going on. It's just a lot of fun."
Once the family returned to Alexandria for good and her children were in high school, Palermino, who works in acrylic on canvas or Masonite board, decided to start painting full time. She opened her studio in 1992 and entered her first art show the next year in Fairfax County.
"I was shocked when I sold my first five paintings."
Now, Palermino has original paintings hanging in permanent museum collections including The White House. Note cards and jigsaw puzzles that bear licensed images of some of her works are available in museum gift shops worldwide. Even UNICEF has selected her work for Christmas card collections.
Palermino says she's thrilled to return to the Alexandria Festival of the Arts for a sixth year. She loves the people that come to the festival, but she thinks that when some look at her art, they don't quite know how to take it.
"The looks on their faces say, is it serious? Is it OK to laugh? I like putting fun things in my work. I love to see people smile when they see my paintings," she assures.
"I'm very fortunate to have this career at this time in my life," she said. "When people say do something you love, that's it. You should."