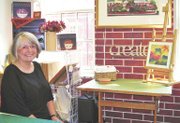 There was a time when watercolor artist Jane Gillette hoped people would buy paintings that meant something to her. But experience taught her that people want a painting that means something to them.
"Sometimes I have the good fortune to sell a painting that means something special to both of us," she said. "When it comes together like that, it's a really great feeling."
An exhibitor in the Alexandria Festival of the Arts since it's inception, Gillette says she loves the quality of the show.
"It really forces me to grow not only in my work, but in the way I display my work, too," she said. And, since it's a juried show, she says being selected to display at the festival denotes a certain level of success.
"People don't come into my booth and wonder who I am. Just being in the show gives artists a certain credibility. It helps people know they're buying something of value."
Originally from Iowa, Gillette's been an Alexandria resident for 30 years. She earned a BA in fine arts from the University of Iowa where she painted in oil. Now, it's strictly watercolor.
"I like its portability," she said. "I can pack my materials in a box, stick it in a suitcase and go anywhere."
All of Gillette's work is original. Her subjects range from floras and botanicals to her friends that play golf and even her kitty. She also paints architecture and landmarks — including Alexandria buildings and scenes.
"People will come into my booth and say I'm so happy to see somebody local," according to Gillette. They're also drawn into her booth by the bold, intense colors she uses.
"I use the colors I love — bright colors, especially yellows. I think it has something to do with growing up in Iowa with cornfields all around," she said.
Yellow is a theme in some of her new work this year, which includes a series of little strips of sunflowers. Patrons will also see tulips in new sizes, small paintings of Baltimore's Fells Point, and a whole lot of mini Alexandria doorways.
"Just the doorways — in 5"x5" and 6"x6" sizes," she said. "Something for everyone."
Gillette says she loves seeing the patrons who come by her booth every year at this arts festival.
"I love the local support," she said. "I love it when a patron can't decide which painting they like better so they buy two. Every year has a different feel."
Too often, Gillette feels, people are thrown off by the myth that art has to be an investment.
"I see people trying to give themselves permission to buy a work of art that they really like, when that's what buying art is all about."
Gillette likes to remind folks about the great masters, that we never tire of looking at their works.
"That's what I want people to experience with my work — that they'll always find something new in the painting to appreciate."