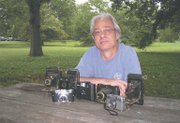 Growing up in Essex County, N.J., Ed Hirschfield never thought of himself as creative. Sports were more his thing.
But when he was 13, Hirschfield received a gift that changed his life — a home photography developing kit.
"It just triggered something in me," he said. "I was fascinated the first time I saw a print come up in the developing tray, and that feeling never went away. It's still the same thrill."
After earning a fine arts degree in photography from George Washington University, Hirschfield worked the kind of jobs that artists often do — bar tending, restaurant managing — all the while trying to figure out how to make a living at photography. About 14 years ago, he made the transition to full-time artist.
Hirschfield describes the D.C.-area art crowd as sophisticated, knowledgeable, and appreciative of the work that it takes to create art.
He says if people want to experience what a good arts festival is like, the Alexandria Festival of the Arts is the one to see.
"You'll be exposed to passionate, talented, high-quality artists," according to Hirschfield. "And, the experience of talking to the actual artist is quite special. They share their passion for what they do, and it's contagious. You can get the story behind the work directly from the artist, and you get to understand and appreciate what went into it.
"That work of art displayed on your wall is no longer anonymous."
Returning patrons to the Alexandria Festival of the Arts who are fans of Hirschfield's vibrant painted photographs will be treated to something new hanging on the walls of his booth. They'll still be able to enjoy and purchase his familiar hand-painted individual prints.
But Hirschfield is eager to have folks experience a new technique he's been developing since last fall. This new work involves distressing and laminating together multiple negatives shot with a variety of antique cameras. The combined negatives are then printed, toned and sometimes hand-painted.
This new process, he feels, allows him to be a little more creative. "It's time to see how the public responds," said Hirschfield.
Hirschfield has never worked in digital photography, preferring to preserve the tradition of the craft.
"When I take a photograph, I like to wait for the right light rather than create light on a computer. And in the darkroom, I'm able to bring a uniqueness to each image," he said.
"I feel an obligation to show the thought and effort that went into a buyer's unique piece — that my hands actually touch it and put up to 30 hours creating it."
Hirschfield considers himself lucky to be able to make a living doing what he loves. "I wake up every morning excited to get to work," he said, his expression revealing the joy he feels. "Sometimes it's hard to go to sleep at night because I'm still so excited about what I'm doing.
"I wish all people could experience that — at least for awhile."