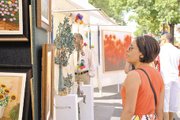 WHAT: 7th Annual Alexandria Festival of the Arts
WHEN: Saturday, Sept. 12, 10 a.m. –7 p.m.
Sunday, Sept. 13, 10 a.m. – 5 p.m.
Admission is free and open to the public.
WHERE: Old Town, on King Street from Washington down to the Potomac River at the Torpedo Factory
Navigational address: 480 King Street, Alexandria, Virginia 22314
<bt>The Alexandria Festival of the Arts celebrates its seventh anniversary on Sept. 12–13, as King Street in Alexandria's Old Town is transformed into an outdoor art gallery complete with 200 artists and $15 million in artwork available for sale. Admission is free and open to the public.
Produced by Howard Alan Events, the Alexandria Festival of the Arts is ranked one of the top 100 festivals in the country by Sunshine Artist, the nation's leading publication for art and craft shows. It is also included on the Harris List as one of the Nation's best art shows. The artists, juried by an independent panel of expert judges, are hand-selected from hundreds of applicants based on quality and diversity. All of their artwork is original and handmade in America.
Prices range from $25 hand-designed earrings to $20,000 metal sculptures. The event appeals to those looking for a free and fun weekend activity, as well as serious art buyers looking to add to their collections.