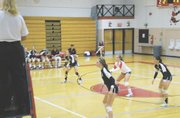 The ice bags strapped on Tiffany Vu's knees more than told the story of her performance in W.T. Woodson's girl's volleyball match against Herndon High School.
Vu, a senior, threw her body around like a rag doll in a 3-1 loss to the Hornets on Monday, Aug. 31. She made crucial plays to keep her team competitive in a match where Woodson found itself neck-and-neck with one of the Concorde District's toughest teams.
"We worked well and we pushed through [the game], but we had injuries," Vu said. "I got kind of banged up from the saves."
Banged up is an understatement.
Vu's kneepads were visibly dirty after the game and, as she walked off the court, she grimaced every few steps, the price an athlete pays for playing to win.
"I'll be fine," she said. "I just try to create little rally points here and there [with my saves]."
ON ONE DIVE, Vu landed on her stomach and somehow managed to make a fist, sending the ball into the air to be cleared out her zone. During another acrobatic save, she leaped out of bounds to save the ball, allowing senior Becky Conway to complete a kill.
When the Woodson team looked out of breath, Vu was there to make another save or kill to re-energize her teammates.
Vu finished the night with 20 digs, 12 kills and four aces.
Head Coach Len Palaschak said that Vu's performance helped motivate her team, but that she was doing what the team is taught in practice.
"We tell the girls you always better the ball," Palaschak said. "If one player makes a great save, you want to make the next play even better. It's something that we live off as a team. Every time someone makes an incredible save, you want to make sure you keep the ball alive."
During the match, the Woodson squad looked fatigued, but the players muscled through the pain to force four games.
The team's effort nearly forced a game five, but a 30-28 loss in game four, but a few errors and calls against them foiled the Cavaliers' bid for victory.
Vu wasn't the only Cavalier to sacrifice her body for the chance for an early season victory. Junior Jacquie Palaschack, the coach's daughter, was injured in the third game, a 25-12 loss, and was unable to continue playing.
"I went to tip the ball and I landed on [a Herndon player's] foot," she said. "My leg twisted and I stretched my MCL (medial collateral ligament) muscle on the inside of my knee."
Len Palaschak said that losing Jacquie made winning in game four a difficult feat.
"When [Jacquie] got injured, it took our team out of what we are used to doing," he said.
Despite the physical challenges, Vu said that the team's motivation never waned. "We just talked about how this is our game. We can play to their level. We played them last week in a scrimmage and we beat them 3-2."
Though the team didn't walk away with the victory, Len Palaschak was pleased with the performance.
"We played really well," he said. "It hurt when Jacquie got hurt, but they stuck through it. It was a great match to watch. It could have gone either way."
For Woodson, it was a tough loss but a step forward.
"In the end, we played as a team," Jacquie Palaschak said. "We had better communication. We need it on the court and it helps us win."
Using Herndon as a reference point, Vu thinks that the Cavaliers have a strong chance of contending in the Patriot District and in the Northern Region.