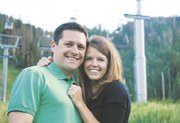 Mr. and Mrs. David Whelan of Great Falls have announced the engagement of their son, Christopher David, to Lindsey Rene Welch, daughter of Mr. And Mrs. William Welch Jr. of Englewood, Colo.
Christopher Whelan received his bachelor of science and master of education from Lynchburg College. He is the president and founder of Overtime Athletics and is the head men's basketball coach at Herndon High School.
Lindsey Welch received her bachelor of science from Virginia Tech and her master of arts from The University of Phoenix. She is the assistant athletic director at the National Cathedral School.
An August 2010 wedding is being planned.
More like this story