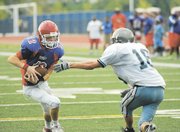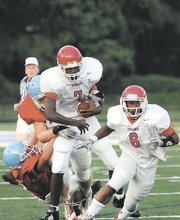 Joe Hargrove spent the offseason trying to prove he was starting quarterback material. Splitting reps during practice, the T.C. Williams senior felt his superior athletic ability would earn him the job.
As the season approached, Hargrove's performances appeared to distinguish him as the Titans' top signal caller. His strong arm and desire to make a play gave the Titans offense a capable-of-scoring-on-any-play kind of feel.
Ironically, it was Hargrove's desire to make a play that cost him a shot at entering the 2009 season as a starter.
During an Aug. 27 scrimmage against Centreville, Hargrove rolled to his left and was sacked near the visiting sideline at Parker-Gray Memorial Stadium. He landed on his right, non-throwing arm and suffered a fractured wrist, leaving his availability for his senior season in doubt.
Hargrove was at T.C. Williams on Monday, sporting a cast which ran the length of his right forearm. He said he intended to see an orthopedic doctor in the near future and hoped to be able to play Sept. 11 against Mount Vernon. Titans head coach Dennis Randolph later acknowledged Hargrove's hopeful return date could be overly optimistic.
AS HARGROVE and his mother, Bernita, were leaving campus, Hargrove, an ESPN.com college prospect, struggled to put his emotions into words.
"I can't describe the feeling," he said, "because I'm mad [and] sad. I'm in between."
Meanwhile, practice continued for the Titans, who open their season at 7:30 p.m. today at Robinson. John Bray, who split reps with Hargrove during the offseason, will start at quarterback for T.C. Williams. The senior doesn't have Hargrove's arm strength, but Bray is a hard-working signal caller who led the Titans to two touchdowns and a field goal after taking over in the scrimmage against Centreville.
"I'm really excited," Bray said of his opportunity to start. "I had a shaky practice in the beginning [Monday] but I got my" bad practice out of the way for the week.
Bray added he can help the team by being more of a vocal leader.
When comparing Bray and Hargrove, Randolph has said while Bray doesn't have Randolph's big-play capability, his strength is sustaining multiple-play drives. Bray will need to do that this week if the Titans are to beat Robinson.
Bray "has to move the ball down the field, however we get it done," Randolph said. "If we can run the ball against them, he's just got to hand off. He's got to be that guy that's going to get them into the end zone [whatever] it takes. Obviously, there's a difference with John in the game. … John can complete balls, ]but] he's not going to throw the 60-yard ball down the sideline."
Whether or not Bray can consistently lead the Titans down the field will likely depend on the ability of the team's running backs and offensive line to generate yards on the ground. Senior Charles Garner and sophomore Raquan Brunson have gotten the bulk of the carries during scrimmages, though senior Robert Carter has seen time and scored two touchdowns against Centreville.
THE OFFENSIVE LINE is led by junior right tackle Jay Whitmire (6 feet 6, 285 pounds) and senior right guard Luke Dorris (6-4, 272).
Speed at the receiver positions keeps the big-play threat alive for T.C. Williams. Seniors Cortez Taylor and Aziz Coker are candidates to go the distance when they touch the ball, and Taylor said the receiving corps is comfortable no matter who is playing quarterback for the Titans.
"We work with both of them," Taylor said. "Our wide receivers, we know what to do whoever's in. We're ready. There's no difference. We look up to both."
Doug Murphy, a junior, is second on the depth chart behind Bray while Hargrove is out.
The defense, led by Carter at free safety, will also need to step up.
T.C. Williams finished 3-7 in 2008 and has not had a winning season since 1995. Randolph, who enters this third season with the Titans, noticed a mentality around the program that could have contributed to the team's lack of success.
"What I've found since I've been here is that these kids do well when everything's going their way," the coach said. "And then when something happens, they just implode and say, 'here we go again.'"