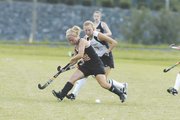 Alex Abrahamson and her teammates from the West Springfield High School field hockey team walked onto the field for a championship showdown against South County Secondary School with a chip on their shoulders.
At the Bulldog Invitational Field Hockey Tournament on Aug. 28 -29 at Westfield High School, Abrahamson's team played the role of underdog, but after a 2-0 victory against defending state champions, Chantilly High School, the Lady Spartans felt they could do anything.
"It is a new year, and everyone is underestimating us," Abrahamson said. "We have such a great team and I feel like we can go far. Everyone is looking past us."
The Lady Spartans entered the tournament with a 0-1 record and a rookie head coach, but they left carrying the championship trophy, stunning some of the top programs in attendance and themselves.
"I knew that we would have to step up if we wanted to have a chance to win," Head Coach Rosie Pannoni said. "A lot of people are underestimating us this year. The team lost a lot of playmakers last year, but we have a great group of girls who are really stepping up."
The trip to the finals was also a sweet redemption for some of the senior Lady Spartans who attended last year's tournament.
"Last year, we lost all of our games at this tournament," Abrahamson said. "Everyone was just so psyched to [get to the finals this year]. We kept telling ourselves, 'It's a new year, people graduate, our team is even better than last year.'"
While Abrahamson and her teammates may have been surprised by their run to the finals, Pannoni said she knew the team could contend.
"We have enough skill and talent that if these girls really push themselves they can win," Pannoni said. "I think that really showed this weekend."
IN THE CHAMPIONSHIP game with South County Secondary, the Lady Spartans opened the scoring in the first half with a goal by junior Danielle O'Brien.
The Spartans defense, led by goaltending tandem Kristen Beyer and Mary Walsh, held the lead until a thunderstorm suspended play with 11 minutes left in the game.
After an hour's delay, referees called the game and West Springfield defeated South County 1-0.
"I wish we could have finished the game, but it's just a great start to a good season," Pannoni said. "I'm just very proud of my team and what they accomplished."
The championship game was the Lady Spartans' sixth game in six days, but Abrahamson credits the team's depth for being able to compete despite the heavy workload.
"We just have great depth on our team," she said. "We had great defenders, great goaltending and great midfielders. We can be really good this year."
Pannoni said that her team's top performer was the Lady Spartan's lone goal scorer in the finals, Danielle O'Brien.
"She was great," Pannoni said. "She was everywhere you wanted her to be. She drove the ball down the field and made plays. She had three goals and was our leading scorer. Anytime I needed her to get the ball she did. She set up beautiful plays for our team."
Though O'Brien was the standout, Pannoni said everyone on the team played a role in the team's championship run.
"I'm just so proud of our team," she said. "We played like a team and we brought our 'A' game and gave it everything we had."
West Springfield's record improves to 4-1, with victories over Hayfield Secondary School (2-1), Chantilly High School (2-0), Oakton High School (3-0) and South County Secondary School (1-0).