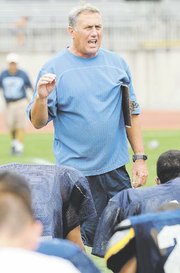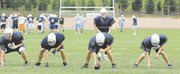 Bruce Hanson said he doesn't consider himself an old-school coach. In fact, he said he's not exactly sure what that means.
What does it mean to be old school?
If it relates to experience, Hanson has that covered. The 25th-year Patriots head coach has been the leader at Yorktown since 1985.
If it involves success, Hanson and his 150-plus victories fit right in.
If being unwilling to change one's ways is a factor, count Hanson out.
After 24 seasons of running the wing-T offense, Yorktown will operate primarily out of a spread scheme during the 2009 campaign. Hanson made the switch during the offseason, a decision he said was based on the type of athletes in the Yorktown program.
"We just felt it was time to spread people out," Hanson said, "and try something a little different."
Saying the spread is "a little different" than the wing-T might be understating. The wing-T is a tight, run-oriented offense built on deception. Fakes and counters are used to keep opposing defenses off balance and unsure of whom is carrying the ball.
The spread is run primarily out of the shotgun, with the quarterback lined up roughly five yards behind the center. The defense is forced to cover more ground and the offense can exploit mismatches by getting the ball to its playmakers in open space. The spread can be run- or pass-oriented, though Hanson said he hopes for close to a 50-50 ratio.
Yorktown will occasionally line up in the wing-T, Hanson said. The formation could be used in short-yardage and goal line situations, and for catching an opponent off guard.
One of the athletes Hanson viewed as a reason for the switch in offensive philosophy is quarterback Sam Nottingham (5 feet 11, 165 pounds). The senior said he was surprised when he heard about the move to the spread.
"I thought, 'That's not Yorktown,'" he said. "But now it is. It's something new and something that we're going to work with and I'm excited for it."
Nottingham said he welcomes the added responsibility a quarterback inherits when transitioning from the wing-T to the spread.
"It's a little bit more stress," he said, "but it's also a lot more glory. I like it."
The Yorktown receiving corps is led by senior Mike Veith (6-0, 150), who was an all-district selection in 2008. Seniors C. J. Bartholomew (6-3, 175) and Andrew D'Addario (5-7, 190), and junior Kevin Bailey (6-0, 145) are also pass-catching threats.
At running back, three Patriots are candidates for carries: seniors Erik Cardillo (6-1, 235), Charles Banks (5-10, 195), and junior Khalil Doles (5-8, 190).
The offensive line averages 207 pounds. Senior Lucas Alderfer (6-2, 215) is the left tackle, senior Michael Ryan (6-0, 175) is the left guard, junior Gunther Poth (6-2, 200) is the center, junior John Todd (6-4, 200) is the right guard and senior John Schwartz (5-11, 245) is the right tackle.
Yorktown also made changes to its defense, moving from a 4-3 to a 3-4, and special teams, implementing several trick plays.
Senior linebacker Sam Burton (5-10, 170) said the program's changes are welcomed.
"It's not been hard at all," Burton said of the transition to a new defense. "… It's just refreshing because for a lot of us, we've been playing the same offense [and] defense since eighth grade and so it's just nice to play something new."
Cardillo, Banks and senior Henry Dixon (5-9, 190) are the other linebackers.
Alderfer and seniors Nick Vaughan (5-10, 215), Walter Osteen (5-6, 245) and Anibal Suazo (6-0, 255) will see time on the defensive line.
Veith, Bartholomew, D'Addario and Bailey will see time in the secondary.
Yorktown opens its new-look season at home with a 7:30 p.m. Thursday game against Wilson (Washington D.C.).
While it may seem Hanson took nearly a quarter century to change, the coach said he made several adjustments to the wing-T over the years.
"The wing-T that we run now wasn't the wing-T that we ran 10 years ago," he said. "So we changed somewhat with the times."