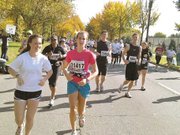 Ariel Cohen doesn't want to be known as the "stroke girl" anymore.
On Sunday, she went to great lengths — 26.2 miles to be exact — to help put that stage of her life in the past.
The Arlington native, who nearly four years ago suffered a stroke while swimming at the age of 13, competed in the 34th Marine Corps Marathon. The 17-year-old Cohen finished 69th in her age group with a time of 5 hours, 29 minutes and 18 seconds. While Cohen accomplished her goals of finishing the race and coming in with a time faster than 5:30, simply competing at all was a feat in itself.
"It's really kind of a capstone on a four-year process," Cohen's father, Dan, said.
Ariel Cohen, a senior at Holton-Arms School in Bethesda, Md., suffered a stroke while competing in a school swim meet on Nov. 30, 2005. It was not known why the stroke occurred, though it was suggested at the time Cohen might spend the rest of her life in a wheel chair.
After initially being taken to Children's Hospital, Ariel Cohen battled through rehab at National Rehabilitation Hospital. Through hard work and the support of her parents and doctors, Ariel Cohen returned to a fairly normal life. She's the captain of the volleyball team. She also swims and runs track.
Cohen's journey has brought her plenty of praise and attention. As she moves forward with her life, however, she no longer wants the sympathy and notoriety which comes with her story — she declined to be interviewed for this story. As part of moving forward from her past, she decided to accomplish the feat of completing in a marathon.
She decided less than a year ago to compete in Sunday's marathon, meaning dedication was key in order to finish the 26-mile test of endurance.
Dan Cohen said his daughter would get up at 5:45 a.m. two or three times a week to train for the marathon. She also went on long runs during the weekend. She bounced back from a bout with H1N1 influenza — commonly known as the swine flu — and pushed through minor injuries common with running. She balanced her training with a full load of classes, being the managing editor of the school newspaper and applying to colleges.
"She made up her mind several months ago that she wanted to do it and didn't give herself a margin for error," Dan Cohen said. "There were plenty of times she could have made excuses and we would have let her, but she refused to."
Ariel Cohen's mother, Rachel, also participated in the marathon, pacing her daughter for the first seven miles. Ariel Cohen also ran with friends and mentors before her father paced her from mile 20 to 25.
Ariel Cohen wanted to run the last mile-plus by herself.
When the marathon was over, Ariel Cohen said, "We did it mommy," Rachel Cohen said. "She had tears in her eyes. She won't let on, but it was an amazing, amazing accomplishment."
Ariel Cohen ran with a tracking chip in her shoe. Rachel Cohen carried her phone while she ran and received text message updates every time Ariel Cohen reached a 3.1-mile mark. Relatives in Florida, Las Vegas and Ohio followed Ariel Cohen's progress by computer.
Her participation also raised money for Children's Hospital.
Ariel Cohen is ready to move to the next stage of her life — college. She takes daily medication and is sensitive to cold weather — she would like to go to attend a warm-weather college — but is otherwise back to normal.
"She wanted to put a capstone on being the stroke girl," Dan Cohen said. "She doesn't want people to think about that. … She wants to be just like everyone else."