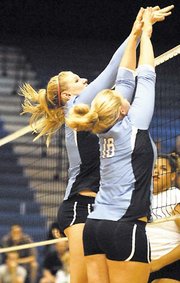 The Yorktown volleyball team was far from perfect during its Oct. 7 victory over Lee.
Except for Ashley Rock.
Rock, a sophomore middle blocker, finished with 11 kills and no hitting errors during the Patriots' 3-1 (25-6, 22-25, 25-16, 25-19) win at Yorktown High School. She set the tone early, putting away five kills during a match-opening 10-1 run. She also tallied nine digs, and closed game four with a trio of aces.
Rock, an honorable mention all-district selection last season, was second on the team with 110 kills and a .387 hitting percentage through 12 matches.
"She's doing really well," Yorktown head coach Brittanie Behar said. "I've been really, really pleased with her this year. Offensively, she's so much stronger than she was last year. She has more kills already this season than she had all season last year. She's becoming really consistent and she's really focusing on making smart plays, making good shots."
WHILE ROCK was perfect offensively, she and her teammates struggled receiving the brisk jump serve of Lee junior Crystal Ronan, who tallied seven aces. While Ronan lacked consistency, several of the serves she kept in bounds gave the Patriots fits.
"We're not really used to receiving them," Yorktown senior Elyse Bush said.
Behar said she wasn't overly concerned about the Patriots' problems with the jump serve.
"We were lucky [Ronan] didn't serve very many in," Behar said. "She definitely had a tough serve, [but] not any control. … I think we did OK in the sense that, well, she missed a lot, so that helped. I think we're not going to see a lot [of serves] with that kind of pace on it. … You get to college and you see some players that serve that tough but serve that tough very consistently — not so much in high school. So it's not something that we're too worried about."
Bush, the National District Most Valuable Player last season, finished with 19 kills and 12 digs. She led the Patriots with 172 kills and 111 digs through 12 team matches.
Katie Rock tallied eight kills and three aces, setter Libby Kane dished out 41 assists to go with three aces and Courtney Duran finished with four aces, three kills and three digs.
Yorktown entered Tuesday's match against South County with a 10-2 record, 5-0 in district. Results of the match were not available as of press time. The Patriots host Jefferson on Thursday, travel to face district foe Stuart on Monday and host Stone Bridge on Oct. 21.
Yorktown has yet to lose a game during district play.
"I'm looking forward to a little more competition," Behar said, "especially because we're getting toward the end of the season and now we're looking toward districts and regionals."