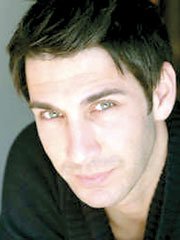 Dar Dash has come a long way from Woodson High School.
The actor, born and raised in Fairfax and a 1998 graduate of Woodson, recently made his television debut on "The Prisoner," an AMC remake of the 1960s spy series.
Almost all of his family, including parents Mercedes and Dar Dash Sr. and brothers Niki, Ramine, Teja and Marcus, still live in the area, and one of Dar Dash Jr.'s first brushes with fame was a photo in the Connection in the early 1990s, when he was named Carrier of the Month for the Fairfax Connection.
<b>
When did you first get interested in acting?
Dar Dash:</b> I think I got my start as Frosty the Snowman [in a school play.] I pretty much skipped over theater in high school because Woodson did mostly musicals and that's not really something I did. When I was about 20, I decided I wanted to go and do an intense Shakespeare course at the Royal Academy of Dramatic Arts in London, where we studied eight hours a day, every day, for six weeks. After I finished, I stayed in contact with one of my professors for about a year, who encouraged me to do this full time. He suggested I audition early for some of the conservatories in the U.K., but being an American in London, I was at a bit of a disadvantage. There aren't many parts for Americans in London. Anyway, I auditioned late and only auditioned for two conservatories, but I managed to get into the Arts Education School of London, the same school Julie Andrews and Catherine Zeta Jones attended.
<b>
When did you get your start?</b>
I worked for my first two years to refine my skills, doing a lot of in-house productions that no one but the professors saw. By the third year, I was lucky enough to do leads for a few of the American plays. It was fantastic. One of my first major roles was in "The Glass Cage," this forgotten play at the Theatre Royale written by J.B. Priestley that hadn't been performed in 50 years. I found an agent right out of drama school, and he helped me tremendously. The play ("The Glass Cage") got a lot of publicity. I think I had my photo in the Daily Telegraph and The Guardian, which was great. This would've been late 2007, and after that, a few projects seemed to be in the pipeline. I did some work in the West End [London's version of Broadway], mostly plays by American playwrights including one by Mark Henry Levine. But I think, during that time, there were lots of missed and lost opportunities. I had a small part in a Channel 4 show with some locally well-known actors, stand-up comedian types, and I had a part in some commercials, including one for a cider (beer) company.
<b>
How did "The Prisoner" come about?
</b>
In early 2008, my agent called me about some auditions, including one for this TV program. The first audition was for "The Prisoner" and the next day was with the casting director who does all the 007 movies for a role opposite Al Pacino. There was so much potential for things to go right.
I knew "The Prisoner" was going to be difficult. The casting director did the first read of the script in her home, so I spent the long weekend before getting prepared for it. I wanted to go in really polished. She warned me, when I went in that, unlike most productions where the director has the final say, the casting decisions would be up to the AMC people in New York, which meant it would take a long time to find out if I got the role.
After the first audition, I got a call from my agent while I was on my way to another audition. This time, I was going to read for the director, Nick Hurran [who directed "Little Black Book" with Holly Hunter and Brittany Murphy]. My tapes were sent off to New York and when I found out I got a callback, I expected to be the only one there. Yeah, that wasn't the case. There was a room full of people, including people you've seen on TV. And the director wasn't there, but it was the same casting director. A few days later, I was told I was her top choice, and the AMC people agreed.
<b>
What was shooting like?
</b>
We filmed mainly last year (2008), in Cape Town, which has become a very popular place to film, like Vancouver. They turned it into New York City and we filmed in this woman's house. It was mad. The house was decorated from top to bottom, the woman was an interior designer, but I think we only used one room. The house was beautiful, in a brothel-esque way. Will Kemp played my brother and Isabella Calthorpe played my wife, and we were characters in this soap opera that the main character's family loved. They watched it all the time. They were obsessed with this show and eating wraps. We shot only for about two days, because once the lighting was set up, we were all set.
<b>
Tell me a little about your character.
</b>
We were all dressed up in '80s gear. The soap opera we were on was set up with a "Dynasty" kind of feel, it was very melodramatic. Isabella, who played my wife, is pregnant with my brother's baby, and when she tells me, she tells me she doesn't love me, she's in love with him. I tell her I know, I knew for years. And then she tells my brother the same thing, and he tells her he's known all along too. In the middle of this, he says, but what about my wife, isn't that your best friend? Of course, I'm in love with my brother's wife at the same time, so it's very much like the Joan Collins and Linda Evans characters on "Dynasty." It's as melodramatic as it can be, it was great.
<b>
What's up next for you?
</b>
Well, ITV, which will air "The Prisoner" in the U.K., were originally going to broadcast it in January, but since it was so successful in the U.S., they're pushing it back a few months to do the same kind of media campaign here. As for my next project, I'm kind of tempted to strike while the iron's hot, but I might decide to wait and go to L.A. for [television] pilot season. I've been offered a role in the touring production of "When Harry Met Sally," but I haven't decided yet.
<b>
How does your family feel about all this? Do you come home often?
</b>
My parents have come to see me a few times in London, but there are times when they've become a little disillusioned, as have I, but you carry on. I try to do as much as I can, but this career is one in which you don't have much control. I think I'm one of the lucky ones.
I try to come home at least once every year or so, and I'd love to come back and perform at home. The real inspiration for going to London was going to see "Much Ado About Nothing" at the Shakespeare Theater, I think it was 2001 or 2002. I remember thinking this is fantastic, I would love to be able to do what they're doing. My mom used to take me to see stuff at the Folger Shakespeare Theater. I'd love to perform on my old turf.
I wouldn't have been able to do any of this without my family, their support and love and care. A lot of this, I do with them in mind, to give back a little.