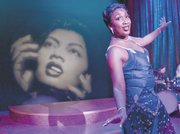 A year ago, audiences enjoyed a short club-style performance by Roz White as Pearl Bailey at MetroStage. This year she's back doing the same material with a different jazz pianist but with pretty much the same effect — audiences having a good time. The biggest difference? The price. Last year a ticket cost $35. This year it will set you back $45 - $50 to get in.
White runs through 16 of Bailey's signature songs … every song was a signature song when Pearly Mae sang it. Her style was, to say the least, distinctive. The songs range from some of her early hits, such as 1946's "A Woman's Prerogative" and "Legalize My Name," both of which she introduced in her Broadway debut in "St. Louis Woman," right through "Hello Pearly," which gives a nod to her success leading the 1968 all-black cast version of "Hello Dolly" 22 years later.
Bailey had a unique blend of comic blues delivery and drew her audience's into her confidence with asides urging them to recognize her talent and her beauty. That she was talented is undeniable. She never became a parody of a sexy lady like, for example, Mae West, but as she aged she turned on the glamour and turned up the humor.
White can deliver these songs with style. That style isn't exactly a duplicate of Bailey's. After all, Bailey was often referred to as "inimitable." Many impersonators tried to capture that style, and some succeeded more than others, but what White is doing at MetroStage is more suggestion of a style than a spot-on impersonation. It sure is close enough to give you a feel for her subject's gifts.
A talented performer, White has appeared on this stage before under the direction of Thomas W. Jones II in "Two Queens, One Castle" and "Cool Papa's Party." Jones is again directing for this evening of Pearly-isms.
White is joined for a few of the numbers by William Hubbard in the role of Hot Lips Page, the trumpeter and singer who had accompanied Bailey in recordings of Frank Loesser's "Baby, It's Cold Outside" and the racy blues number "The Hucklebuck," both of which are included in this show. He acts as a combination partner and master of ceremonies with his own brand of charm and humor.
Three of the four jazz musicians who played in the quartet behind White/Bailey last year are back and each makes a solid contribution. The new face isn't all that new. It is William Knowles at the piano. He wrote the arrangements for the show last year and has appeared at MetroStage behind the singers in a number of jazz-inflected shows including the similarly structured club-style evenings of the music of Nat "King" Cole and Duke Ellington.
MetroStage has decked out its playing space as you might expect of a nightclub with a small stage for the combo and star. A two-step riser provides a spot for the star to stand in silhouette as Hubbard introduces her. The sound fills the small space nicely and there are even a few cabaret tables in front of the stage for patrons who wish to bring in a drink from the lobby concession stand.
***
Brad Hathaway reviews theater in Virginia, Washington and Maryland as well as Broadway, and edits Potomac Stages, a Web site covering theater in the region (www.PotomacStages.com). He can be reached at Brad@PotomacStages.com.