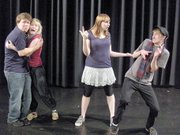 In the musical "Lucky Stiff," Harry Witherspoon is to inherit $6 million from his dead uncle Tony — with one catch. He must first take his uncle on a trip to Monte Carlo, or the money goes to the Universal Dog Home of Brooklyn.
The story will unfold on the Fairfax High stage, Thursday-Saturday, Dec. 3-5, at 7:30 p.m. each night, and Sunday, Dec. 6, at 2 p.m. Tickets are $8 in advance at www.fxplayers.org or $12 at the door.
It takes place in present-day England, New Jersey and Monte Carlo and features a cast and crew of about 35, plus music by a live combo.
Director Paul Rubenstein said things are going great. "The kids are really into it and are doing a fantastic job. I couldn't be prouder of them," he said. "This play has a little bit of something for everybody. It spoofs the murder-mystery genre and has the same kind of feel as 'A Little Shop of Horrors' and 'Weekend at Bernie's' — the musical. It's very campy."
Portraying Witherspoon is senior Mikail Faalasli. A shoe salesman in his late 20s, he lives in a flat in England. Business is slow and his life's dull and unexciting. "His landladies are creepy and nosy, and the dogs that live there are always biting him, so he hates his life," said Faalasli. "He thinks the shoes he sells have more fun than he does because they go out into the world."
Witherspoon is timid and shy because he's never really gone anywhere, but he agrees to the terms of the will and eventually has fun. Besides leading to the money, he sees the trip as a chance to do something with his life.
"It's my first lead, but Witherspoon's fun to play," said Faalasli. "He's such an uptight character placed in an outlandish situation, and he has to deal with all the chaos." Faalasli said the audience will like the show's fast pace and quick-witted humor that'll keep attendees on their toes. His favorite number is "Good to be Alive," in which he pretends his uncle is alive, in front of other people.
Sophomore Anne Norland plays Annabelle Glick of a shelter called the Universal Dog Home. "She's very determined," said Norland. "The shelter sent her to follow Witherspoon around Monte Carlo. If he makes a mistake of any kind, the money goes to the shelter. For example, if he puts the wrong color flower in his uncle's buttonhole or arrives somewhere too early. His uncle gave him very specific instructions."
Norland said Glick is stiff and doesn't have fun, but her soft side shows in her love of dogs. She's enjoying the role and the songs she sings. "They're varied — fast, slow and jazzy," said Norland. "I especially like 'Speaking French' that has dancing and brings in the Monte Carlo/French theme. And you see Glick's transformation from a stern person to someone who falls in love and changes. But even then, she's comedic, and so is her love scene."
Norland said the plot twists will surprise audience members, and they'll like the songs and the different characters. "What's also cool is that not everyone knows this show, so I can do what I want with my character," she said.
Playing Vinnie is senior Josh Rickwald. His sister Rita is trying to find Witherspoon to get the money from him because she was his uncle Tony's lover. Vinnie is "always nervous because of the situations I'm in," said Rickwald. "I hate having an exciting life and want things calm, but my sister's always pestering me."
He's having fun because Vinnie's personality is actually multifaceted and he eventually has a meltdown. "I get to develop the character according to my own taste," said Rickwald. "It requires a physical actor, and I like using my whole body to show something." He said the play is unusual, with an "intriguing, sort of bizarre storyline and unique music — not a stereotypical musical."
Senior Allie Cropp portrays Rita. "The word 'repercussion' is not in Rita's vocabulary," said Cropp. "She's so rash that she does whatever she wants. She doesn't really think about how other people feel. She's obnoxious, but not stupid, and there's no limit to what she'll do. I love it because you can't go over-the-top enough with this character. And it's fun to play a scheming, New Jersey girl."
Her favorite song is "Rita's Confession."
"She's essentially telling her brother she's in trouble and, 'Oh, P.S., so are you,'" said Cropp. As for the audience, she said they'll like the show's energy and catchy songs and the "really great chemistry in the cast. Everyone's remarkable."
Junior Jess Rawls is stage manager and, during performances, she'll call out sound and light cues and speak with the assistant stage managers. "It's the first time I've done it and I enjoy it," she said. "I don't have to memorize any lines, but it's a lot of work. I'm also president of the drama club, the Fairfax Players, so I have two leadership roles at the same time and am finding the balance between being mean and assertive."
Calling the play "eccentric" and "out there," Rawls said the audience will also like the sets. "There are plane, train and Monte Carlo scenes, so it's going to be colorful and bright and will fit well with how much fun the show, itself, is."
<i>Publishers of 17 weekly newspapers in Suburban Washington:
Alexandria Gazette Packet, Arlington Connection, Ashburn Connection, Burke Connection, Cascades Connection, Centre View North, Centre View South, Great Falls Connection, Fairfax City Connection, Fairfax Station/Laurel Hill/Clifton Connection, Herndon Connection, McLean Connection, Mount Vernon Gazette, Potomac Almanac, Reston Connection, Springfield Connection, Vienna Connection</i>