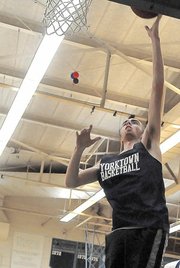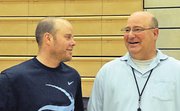 Ben Earley understands the challenges awaiting the Yorktown boys basketball team. As one of only three returning Patriots who saw significant playing time last season, Earley knows he'll be needed for more than putting points on the board.
"We were all new at one point," the 6-foot-4 senior said. "We all had a first year on varsity. The older guys when we were coming up were really helpful. We're just trying to be as helpful as they were."
Yorktown enters the 2009-10 season as an inexperienced group in search of an identity. Senior guard Mike Veith (6-1), sophomore forward Jack Earley (6-3) and the senior post Earley are the most experienced of the returning Patriots. Beyond the trio, seventh-year head coach Richard Avila is looking to form a rotation of potential starters and role-playing candidates. As of last week, Avila had yet to determine how many players he would carry on this year's roster.
Of the 12 Patriots Avila listed as potential impact players, only one is shorter than 6-1 — but only one is taller than 6-3. Guard play will be the team's strong point, while a lack of size could leave the team searching for production in the paint.
Avila said the team will likely be deliberate in its offensive approach. With a lack of experienced athletes, the coach is focused on getting everyone on the same page.
"Whoever makes the team, let's see how fast we can get those guys up to speed for varsity-level competition," Avila said. "I think the strength of our team is going to be our guard play. I still don't know how we're going to fare inside. In the past, I've always had one or two guys that could score inside, guys who you could count on to give you some rebounds and some scoring. … With our style of play, eventually you've got to find five guys that understand the offense and they can move and read each other. We're not going to be a run-and-gun team where you can put 10 or 12 guys in there."
Ben Earley is the team's tallest player at 6-4. Forwards C.J. Bartholomew (senior) and James Overbeek (junior) stand 6-3, but both players are recovering from injuries. Jack Earley is also 6-3. Senior center Erik Cardillo is 6-1, 235 pounds.
"We lost a lot of post players last year," Ben Earley said. "We're going to have a lot of rebounding to replace and we're going to have to do a lot of work on the inside in practice."
Senior guard Wade Holmes (5-9), senior forward Nick Zobor (6-1) and Cardillo saw time on the varsity last season. Juniors Nikko Esherick (6-1), Kevin Bailey (6-1), Kyle Bailey (6-1) and Daniel Pietropaoli (6-1) will compete for a chance to start.
Jack Earley said adapting to the pace of the varsity game is one of the most important transitions a player has to make.
"It's much faster than at the other levels," he said. "That takes time to adjust to."
Veith was a second-team all-district selection last season.
"We feel we have to step up and [be leaders]," Veith said of Ben Earley, Jack Earley and himself.
Yorktown was 13-12 last season, and, at 8-4, finished in a three-way tie for the second-best record in the National District. The Patriots entered the district tournament as the No. 4 seed after losing a pair of coin-flip tiebreakers. After beating Washington-Lee in the opening round, Yorktown lost to No. 1 Mount Vernon in the semifinals. The Patriots' season ended with a less to Chantilly in the opening round of regionals.
Yorktown opens its season on the road with a Dec. 2 matchup against Robinson. The Patriots' home opener is Dec. 4 against South Lakes. Yorktown begins district play Dec. 15 at home against Washington-Lee.