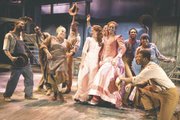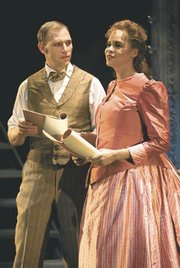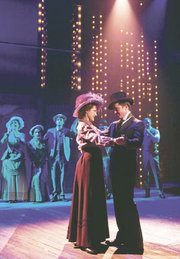 There is much to like in Signature Theatre's new, downsized revival of "Show Boat," one of the biggest musicals of the 20th century. Much, but perhaps not as much as might have been hoped by those who already know and love the show.
It isn't that this is by any stretch of the imagination a skimpy musical. Not with cast of 24, an orchestra of 14, a set that is both functional and massive, given the size of Signature's 280-seat black-box theater, and 18 songs of which most have been a hit at one time or another over the past 80 years.
No, it is just that, in downsizing the original while remaining true to its 1927 roots, some of the heft of the original has been lost, and Signature hasn't quite found a way to compensate for that.
"Show Boat" ranks as one of the four or five most important single events in the history of the American musical stage. In one fell swoop, Oscar Hammerstein II and Jerome Kern took the conventions of the light and zippy musical entertainments, the musically heavy but dramatically unrealistic operettas and the serious dramas of the day, and blended them into a unified whole.
Not that it was an easy birthing process. The script is based on Edna Ferber's sprawling novel of life on a Mississippi River show boat. It dealt forthrightly with racism as well as some somber matters like addiction to gambling. Hammerstein crafted an almost equally sprawling script which, on the night of its first pre-Broadway preview performance (which was at the National Theatre in Washington) ran over four hours.
Much cutting was necessary then, and there have been revivals over the years that cut more, put things back or added new material. This latest revision, which builds on the original 1927 script, the 1946 revival and a 2005 version developed by Nic Muni for the Bern Opera, cuts or shortens seven songs that were in on opening night on Broadway while picking up some that were added later. The result is a very good representation of the score which can be performed by a cast that, while big by today's standards, isn't as huge as, for instance, the most recent Broadway revival which had nearly 60 performers on stage.
The 24 in this cast include a delightful Harry A. Winter as the avuncular captain of the show boat. Broadway's Terry Burrell delivers not one but two highlights as the show boat's leading lady — "Can't Help Lovin' Dat Man" and "Bill." Delores King Williams ballyhoos marvelously as the show boat's black maid and Stephanie Waters and Will Gartshore combine as the river boat gambler and the girl he loves, with full-throated love songs such as "Make Believe" and "You Are Love."
The show is probably most famous for "Ol' Man River," its recurring theme sung by the show boat's black handyman. Here, Signature has VaShawn McIlwain, a trained opera singer. His vocal timbre and its touch of upper class enunciation is a bit unconvincing for a role of a laborer probably born in slavery and which is so identified with the likes of Jules Bledsoe and Paul Robeson. Director Eric Schaeffer adds a few distracting touches to staging the number over the course of the show.
As the two-month run of the musical gets underway, the performances overall seemed to still need some smoothing and polishing as does the orchestra under John Kalbfleisch's baton, or perhaps they need more experience playing the score. The orchestrations are new, having been done by one of Broadway's best, Jonathan Tunick. But they sound thin when compared to, for example, the orchestra for the Kander and Ebb revue in this space earlier this year, "First You Dream" (which, had five more players) or the accompaniment to Sondheim's "Into the Woods" using Tunick's own orchestrations, which was the first show to play this hall.
***
Brad Hathaway reviews theater in Virginia, Washington and Maryland as well as Broadway, and edits Potomac Stages, a Web site covering theater in the region (www.PotomacStages.com). He can be reached at Brad@PotomacStages.com.