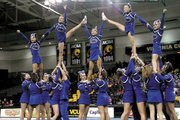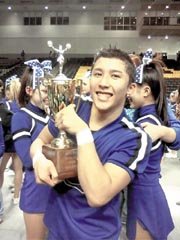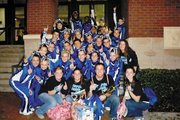 Fairfax High School senior Dolan Savage's black eye didn't come from a crushing football tackle or from a schoolyard fight. He earned it while competing with the Fairfax competitive cheerleading squad at the Virginia AAA State Championship in Richmond, Va. on Nov. 14.
"We were doing a stunting technique during our routine," Savage said. "One of the girls came twirling down. Her elbow hit me in the eye and broke my orbital bone."
The injury couldn't come at a worse time.
With one routine left in the competition, the Rebels' squad would be without the strength of one of its male teammates as Savage was taken to a nearby hospital.
Head coach Wes Vaughan scrambled to re-arrange the preset routine he had taught his team for months, calling on them to dig deep to the hurdle they know faced.
"I had to collect myself and help pull these kids through [missing a teammate]," Vaughan said. "We had literally minutes to re-do a routine that we had been practicing since the beginning of August. That's three months you have to tweak in 15 minutes."
Vaughan rallied his team around the new routine, knowing it needed to be perfect for the team to have a chance to win, and then the unthinkable happened.
As the judges announced the final scores, Fairfax edged out rival Stone Bridge High School with a score to 261.5 to claim the first State cheerleading title for the school.
"The adversity for the season as a whole was just crazy," Vaughan said. "We had to compete back-and-forth with Stone Bridge High School and then an injury stood in the way of the team being successful. They were able to overcome it."
The cheerleading title comes on the heels of Fairfax's 2008 State swim and dive title.
"It's massive because Fairfax's first State title was in swim and dive last year," Vaughan said. "To follow that up with the first cheerleading title is just incredible."
Senior cheerleader Keara McCullough said a pivotal moment for her came days before the State competition.
"We had a practice where our coach got on the mats with us," McCullough said. "He was pushing us through the routine. Everyone was putting their heart into the routine and I felt like we could do anything. It gave me chills."
Senior Emily Andrukonis said the team's chemistry all season long gave her hope that they could pull off a title win.
"We wanted to win this for each other, not for ourselves," Andrukonis said. "Lots of other teams have in-fighting and don't get along, but we don't have any of that. We wanted to do this as a team."
Vaughan said he had a "good feeling" the moment he arrived at the school before leaving for the competition in Richmond.
"I told all of the kids to meet at the school at 11 a.m.," he said. "When I showed up at 10 a.m., they were all there, ready to go. It showed me that they really wanted this. All I had to do was get them on the mats."
Squad members hope the title dispels misconceptions that cheerleading is only about pom-poms and football games.
"You're judged on dance, stunting, cheering, jumping and tumbling," McCullough said. "You score points on each category out of 300. It's really quite intense and our school has become really supportive of [cheerleading] being a sport."
Vaughn said he hopes the title will raise awareness in the area for the sport as well.
"People question if cheerleading is truly a sport," Vaughan said. "But winning a title helps justify how valid a sport it is really is. It helps create excitement for the sport, too."
Senior McCullough said she's happy to leave behind a winning legacy for future squads.
"I hope other teams look at our title and want to do better," she said. "It means so much to win the first title here. I think the younger kids will look up to us."