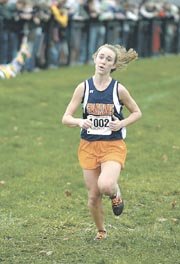 Nearly one month after their triumph at the Patriot District Championships, the West Springfield High School girls' cross-country team's three senior leaders, Paige Kvartunas, Alex Watt and Anna Barber, took a moment on Thursday, Nov. 19 to reflect on a successful season.
Assistant coach Chris Pellegrini calls them "The Big Three," because of their incredible consistency throughout their high school careers.
"At every meet of the past four years, they've finished in scoring positions," Pellegrini said. "That's just incredible to be that consistent."
At the Virginia AAA State Championships on Saturday, Nov. 14 at The Plains, Va., the trio turned in another gigantic group effort, leading the Spartans to third place in the State race.
"I don't think many teams really looked at us as a threat throughout the season," Pellegrini said. "But we had a real chance to take first place at the State finals."
Alex Watt finished the race in 10th place with a time of 18:57, good enough to earn All-State honors, while her senior companions Kvartunas and Barber finished 14th and 30th, respectively.
"It was such a good race for us," Watt said. "I've never gotten All-State honors before because of injuries. To do it in my senior year is special."
While the third-place finish tied West Springfield's best finish at a State Championship race, the moment "The Big Three" were most proud of came nearly a month ago.
On Oct. 28, the West Springfield girls' cross-country team broke a 29-year title drought by finishing first at the Patriot District Championships.
Winning the title proved to be an emotional ordeal. After the race, Barber said she was overcome by the thrill of victory.
"After four years of running with these girls, winning the Patriot District was just emotional," Barber said. "I was crying.
All of the younger runners were wondering why I was crying, but it's been 29 years since [West Springfield] has won a cross-country title. It just meant so much to finally win it with these girls."
Making the Patriot District title even sweeter was that the girls' team was able to edge out cross-town rival and cross-country powerhouse, Lake Braddock.
"We've been wanting to beat Lake Braddock for so long," Kvartunas said. "It was the biggest accomplishment of the season. We had lost a few meets before the district race, so to beat Lake Braddock just felt really good."
Pellegrini said winning the title proved how strong West Springfield's girls' cross-country team actually was this season.
"I don't have words for [winning the Patriot District title]," Pellegrini said. "The girls have wanted it for so long and the best part is that our entire team earned [the District Title], not just our top three runners."
Pellegrini said winning the Patriot District title wasn't a chance occurrence.
"All year, we had some remarkable workouts," Pellegrini said. "But we weren't really racing as a team until the later stages of the season. At our last invitational race, I felt like we had finally gained enough momentum to put it all together."
Even the girls noticed a difference in their racing as the season came to a close.
"Before this season, we never really felt like we reached our potential," Barber said. "We all stepped it up this year and we've all picked up to where we want to be."
West Springfield's victory sparks hope that the Spartans' cross-country program could become a premier sport at the school.
"I just hope that we're leaving a tradition behind for the other girls," Watt said. "I want the next runners to know that we can win and we want to win."
Picking up where "The Big Three" left off isn't going to be an easy task for the juniors, sophomores and freshmen, but Pellegrini hoped the performances he saw at the Patriot District championship would help to create a standard for all West Springfield runners to meet.
"Even though we lose our No. 1, No. 2 and No. 3 runners this season, the best attribute they bring is that they are leaving a positive legacy," Pellegrini said. "We keep 10 more girls and they'll be inspired by those three."
Pellegrini, who said he developed a close bond with Barber, Kvartunas and Watt over the past four years, now must move on without them.
"I can honestly say, I've spent more time with those three seniors than anyone in my entire life," he said. "I'm going to miss them very much."