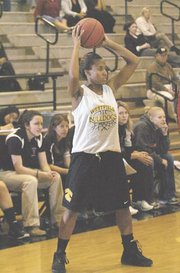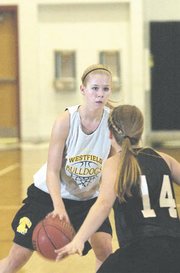 Following a standout season on the Westfield High School girls' basketball team last year, senior guard Jessica Andre is dealing with the pressure of inheriting a leadership role for the Bulldogs.
"I'm a little bit nervous," the 5 foot 6 inch guard said. "I've known the team for a long time, but being one of the leaders is going to be a challenge."
Despite her preseason jitters, Andre already has a motivational tool to use during tight game situations.
"I like to tell [the team] corny jokes," she said. "Coach Deegan always says 'hello ladies' and if we're all tense, it calms us down."
It's not quite as dramatic as Al Pacino's speech about inches during the movie "Any Given Sunday", but the senior says it's been successful in the past.
"I just tell little inside jokes to the team," she said. "It helps relieve the pressure and keep things fun."
While Andre's off-court leadership demeanor revolves around keeping spirits high, her on-court actions are no joke. During a scrimmage with Madison High School on Nov. 23, the talented guard took control of the court, creating points and stalling the Warhawks' offense.
Although no one was keeping score at the scrimmage, Andre played with an intensity that will be expected of her for much of the season.
WITH HER SENIOR season coming after a strong 19-9 season in 2008-2009, expectations are high.
The Bulldogs advanced to the Concorde District finals in 2008-2009, losing to Oakton High School 34-36, and fell to T.C. Williams in the Northern Region semifinals 44-55.
"People expect a lot from us because of last season," she said. "Maybe it's in our minds, but at the same time, our parents and friends think we're going to go far this year. We're also expecting a lot out of ourselves."
One Bulldog who is expected to be a leader alongside Andre is senior guard Shelby Romine.
Romine led the Bulldogs with 15 points-per-game last season, was the Concorde District player of the year and recently inked a full scholarship to Bucknell University in Lewisburg, Pa.
While Andre said she was still jittery about taking over a leadership role, Romine said she's eased into the position due in part to her familiarity with the roster.
"We have a lot of the same kids from last year returning," Romine said. "We won't have to be teaching a lot of new things to each other. We can just get working."
THE FOUR SENIORS on the Bulldogs roster played on the varsity team last season. Only one girl graduated and one team member transferred to South Lakes High School.
"It's basically the same squad as last year," head coach Pat Deegan said.
While Romine provides the star power on the court, Deegan said the team's depth is what makes the Bulldogs a versatile team.
"We know that Romine and Mary Barondess [will start]," Deegan said. "But after that we have a whole bunch of kids who have similar games and some days when someone isn't cooking, some will be."
Adding another layer of intrigue to the Bulldogs' 2009-2010 campaign is their long-standing rivalry with Oakton High School.
Last season, the Bulldogs were unable to best the Cougars once, losing all three games against Oakton, including the 34-36 heartbreaker in the Concorde District finals.
"The loss at Districts is something we've all been thinking about over the summer," Romine said. "We're not focused on Oakton right now, but when the time comes we'll think about that game."
Deegan said he doesn't think he'll need to muster any extra motivation from the team when Oakton, or any team, arrives later in the season.
"These girls don't need a push," Deegan said. "They know what needs to be done."
Just before the preseason tip-off with Madison, Andre took a minute to ponder if the 2009-2010 team was ready to match expectations with reality.
"We know we're a really good team," Andre said. "We have a lot of talent and we're just waiting for everyone to realize it. It's going to come out soon."