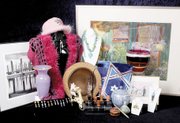 How about enjoying some hot cider and cool art? Looking for an exciting alternative to the busy shopping malls on the day after Thanksgiving? Avoid the long lines at the mall and escape to the Workhouse with friends and family for a day filled with gifts, fabulous artwork, and live music on Nov. 27, from 9 a.m.-5 p,m. Gifts will be available in all price ranges, created by the more than 100 Workhouse artists available for purchase. This all day event will serve as the opening reception for the Workhouse Works: The Third Annual Small Works Exhibition, which will run Nov. 27-Jan. 3.
As part of the Escape to Black Friday festivities, Potomac Jazz Project, who recently performed at the Workhouse as part of its "Stars on Sunday" concert series, will perform 2-4 p.m. As guests mingle and shop, they will have the opportunity to purchase tickets for the "Workhouse Gift Raffle." Three tickets will be sold for $5 and baskets with wonderful items valued at $350 or more will be up for grabs. Each individual basket will contain items from the Gift Shop and the Art Supply Store. In addition, each building will be personalizing every gift basket so that it is distinctive to that house. Cooperative pieces of artwork, a private lesson from an artist, and tea with the artists are just a few possible items that may be inside.
Shoppers can also show their support for the Lorton Arts Foundation and the Workhouse Ceramics Program by attending the Second Annual "Glaze Your Own Ornament Fund raiser." Join the Workhouse Ceramic Resident Artists on Saturday, Nov. 28, from 11 a.m.-7 p.m. for a chance to create a surface design and decoration on a pre-bisqued ornament. Patrons will have the option to either Raku Fire their ornament or we can fire for them in one of our electric kilns.
Ornaments are $22/each and all proceeds go to benefit the Lorton Arts Foundation and the Workhouse Ceramics Program. If patrons choose to have their ornament fired in the electric kilns, they will be called for pick-up of ornaments when ready. All Raku Fired ornaments are available for pick-up the day of the event.
<b>Two Events, One Night</b>
On Dec. 12, to events are taking place to benefit the Workhouse Arts Center. Pillow Talk: The Designer's Showcase will take place 6-8 p.m. on the first floor of building W-16. Pillows specially designed by members of the Association of Interior Design Professionals will be auctioned. Tickets are $25 per person and include fabulous appetizers, live music from Royce Campbell, wine tastings and chance to win an interior designer's pillow masterpiece. Then, from 8-11p.m. on the second floor of building W-16, the Workhouse will host the Collector's Showcase Event, Fete d'Etoile: A Feast of Stars! Each ticket holder will leave with one original piece of artwork and be entitled to attend Pillow Talk. Tickets are $150 per person and $175 per couple and include an original piece of artwork. Art will be chosen by a lottery system in the order that tickets are purchased. This event will include participation in a lecture and Q&A on the topic of collecting art, and will feature specialty hors d'oeuvres and desserts courtesy of Bistro L'hermitage. Tickets for this event can be purchased online at www.workhousearts.org or by calling 703-584-2900.
The Workhouse Arts Center is located at 9601 Ox Road, Lorton. For more information, call 703-495-0001 or visit www.workhousearts.org.
<i>Publishers of 17 weekly newspapers in Suburban Washington: Alexandria Gazette Packet, Arlington Connection, Ashburn Connection, Burke Connection, Cascades Connection, Centre View North, Centre View South, Great Falls Connection, Fairfax City Connection, Fairfax Station/Laurel Hill/Clifton Connection, Herndon Connection, McLean Connection, Mount Vernon Gazette, Potomac Almanac, Reston Connection, Springfield Connection, Vienna Connection</i>
More like this story