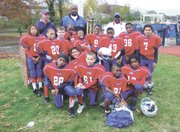 Parker-Gray Stadium was home to disappointment on Nov. 7. The T.C. Williams football team, needing a win to earn the program's first playoff berth since 1990, came up short against Robert E. Lee. T.C. Williams showed flashes of breaking through in 2009, finishing with its best record in more than a decade, but the loss to Lee lengthened the Titans' streak of futility to 19 seasons.
One week later, the stadium was home to hope and excitement. Two Alexandria youth football teams captured championships in their respective divisions Saturday, bringing pride to the community and providing T.C. Williams fans with hope that one day some of these young athletes could help the Titans build a successful program at the varsity level.
The Alexandria Titans of the 75 National Division defeated the Braddock Road Wolfpack, 20-6, for the city's first championship of the day, and the Alexandria Titans of the 85 National Division followed suit hours later, defeating the Ft. Belvoir Bulldogs, 31-7. The Alexandria Titans of the Anklebiters Division 8 played for a championship earlier in the day, but fell short against the Gainesville Grizzlies.
Julius Moultrie, known as Coach Doc, has been coaching different levels of Alexandria youth football since 1970. On Saturday, he led the 75-pound Titans to victory.
"It's been a long time coming," Moultrie said. "This isn't something that happens all the time. It's kind of hard to do. The years of splitting kids [between different teams], it's been kind of hard to keep kids together where you can get them for more than one year. We just got lucky this year and we were able to bring our along four kids, five kids from the team we had before."
Nine-year-old Anthony Stephens, who attends a private school, scored two touchdowns for the 75-pound Titans. Moultrie said 9-year-olds William Howard and Spencer McMillion, and 10-year olds Daniel Davis, Jaquian Findley and Noah Holmes could one day play for T.C. Williams.
Howard, who plays nose guard, said hitting is his favorite part of football.
"It feels good," Howard said of delivering a hard hit, "because everybody calls your name and says 'Good hit.'"
THE ALEXANDRIA TITANS youth football program participates in the Fairfax County Youth Football League, which includes 25 other clubs, 360 teams and 6,500 participants in Northern Virginia. Seven of the Titans' 13 teams made the playoffs this season.
"Our sports program is geared toward helping the high schools, whether it's T.C., whether it's the privates schools within the area," Mac Slover, sports director for the City of Alexandria, said.
Winning puts smiles on faces. But some involved with Alexandria youth football made a point to say it shouldn't be the primary focus of participants.
"We feel like we start them at age 7 and our goal is to keep them in the program each year," Slover said. "Yes, winning is important, but that's not the only thing. We want our coaches to teach them the basics of the game, so as they get to that high school level, they already have the basics."
Jarvis Davis coached the 85-pound Titans to a championship.
"My main focus," Davis said, "is to make these boys better men."
Demonte Jones, 12, and Malik Moten, 10, stood out as playmakers for the 85-pound Titans.
T.C. WILLIAMS varsity head coach Dennis Randolph said the primary areas in which he wants participants to develop during their time with youth football are fundamentals and a positive attitude.
"The most important thing for the coaches in the city of Alexandria is to provide an opportunity for kids to grow as football players and young men," said Randolph, who praised Alexandria youth coaches. "I want [the young Titans] to be good sportsmen, know how to work hard and be a good team person."
Randolph and Moultrie said they would like more communication between youth programs and the varsity. Randolph said time commitments and scheduling make doing so difficult.
"I'm sad to say I don't get to see as much of those guys as I would like to," Randolph said.
Randolph said coaching clinics give those in the program a chance to meet and discuss football, but otherwise communication is limited during the season. Moultrie said players and coaches would benefit from being on the same page in terms of running similar offensive schemes at each level. Randolph said he doesn't think continuity with Xs and Os is overly important, especially with how situations can quickly change. The coach cited Joe Hargrove's injury as an example. The Titans practiced a certain style of the spread offense during the offseason, but when Hargrove, the team's starting quarterback, fractured his right, non-throwing wrist in a scrimmage, T.C. Williams had to run a different version of the offense while he missed the first seven weeks of the season.
"I think it's really important for kids to play and learn the fundamentals of the game, [have] fun and learn about teamwork and camaraderie," Randolph said.