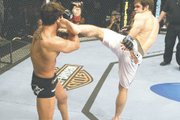 When mixed martial artist Aaron Riley was looking for a new place to teach his craft two years ago, Northern Virginia didn't come to mind as a Mixed Martial Arts hotbed.
Now an MMA instructor for the Olympus Gym in Springfield, the Ultimate Fighting Championship veteran said he's found a community that is embracing the growing sport.
"I came [to Northern Virginia] by accident," Riley said. "I was here on a business trip for an unrelated job when I heard about [the growing MMA community.]"
Since his move to the Washington D.C.-area from Florida, Riley has taught at the Olympus Gym, Jeff Gordon's Mixed Martial Arts Academy in Gaithersburg and the One Spirit gym in Herndon.
"It's been a great move," he said. "The area is very accepting of the sport and is embracing it."
In fact, the sport is so popular locally that the Ultimate Fighting Championship will host a live event at the Patriot Center on Jan. 11.
Riley, who has a 28-12 record as a mixed martial artist and has appeared in MMA promotions such as Pride Fighting Championship and the Ultimate Fighting Championship, said his goal as a teacher isn't to train the next MMA champion.
"We get all sorts of people that come to the gym and want to learn MMA," he said. "It ranges from local high school wrestlers to guys who work for government agencies."
Olympus Gym manager Ryan Mastropaolo said the diverse group of fans and students is helping MMA expand.
"We don't really market the sport to any specific group," Mastropaolo said. "Many groups are interested in the sport.
Some are athletes while others have never played a team sport."
One of those students is Mike Barrett from Falls Church, who sees distinct advantages from training with a UFC member.
"It's a point of pride to say that you get to learn from a UFC veteran," Barrett said. "If you ask questions, he'll give you answers. He knows a lot of different techniques that you can learn."
Mastropaolo said having a UFC fighter teach classes is like having a pro athlete coach a high school football team.
"There's just so much knowledge that you can draw on," he said.
Fellow trainer Dexter Gould said students who are serious about a MMA career can benefit from Riley's experience.
"[UFC Hall-of-Famer] Randy Couture said that iron sharpens iron," Dexter said. "[Riley] has fought in all of the top promotions. If you want to get better, you have to train with the best people."
Misconceptions about the sport, however, still keep some would-be students from enrolling.
"The understanding of this sport isn't quite there," Mastropaolo said. "But we have a generation of kids growing up loving this sport, and that will [make the sport more mainstream]."
While Riley does teach classes that feature striking techniques, his main goal is to teach basic MMA skills.
"I just show the techniques [to the students], but people get a bit scared because of the MMA label," he said. "If students really want to do the advanced classes, I do teach those, but I'm not forcing anyone to do them."
While Riley and MMA continue to gain a foothold in the region, the UFC veteran said he's excited to be a part of the growing community.
"[The sport] is getting more established in Springfield," Riley said. "It's an exciting time to be a part of it."