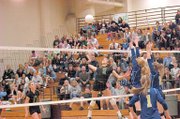 A year ago, Susan Shifflett's Langley High girls' volleyball team struggled with nerve problems at times during the postseason. Perhaps the Saxons were trying to live up to the previous year's success in 2007 when they had won the Northern Region title.
Langley's '08 squad never was quite able to get things rolling during the playoffs and ultimately was swept by Herndon in a second round region tournament match. Even so, it was still a good season for Langley, which went 17-7.
But, this season, the Saxons have broken through in a big time way. Langley, an overall young team much like last year, has progressively gotten better and better as the fall season has moved on. Shifflett was most concerned with her team's offensive firepower at the beginning of the season. She loved her team's passing and defense, but hoped the offense would round into top form. It did.
On top of that, Langley's ability to play well and handle the high energy tension of big matches has improved, as indicated by the Saxons' outstanding postseason roll the past several weeks.
"I always felt physically we had it," said Shifflett. "I wasn't sure if emotionally we were ready to deal with the big stress [of big matches] and winning. Emotionally they've made so much progress and their awareness of the game has improved."
Langley has hardly buckled under during this year's postseason, but has instead thrived under the pressure. Behind the stellar play of standout players Elysse Richardson, a senior setter, and Kathryn Caine, a junior middle hitter, the Saxons have made a playoff charger similar to two years ago.
Langley, as the No. 2-seed at the recent Liberty District playoffs, reached the finals before losing to top-seed and defending district champion Stone Bridge, three games to one. But Langley re-grouped for the 16-team region tourney, dominating in 3-0 match wins over both West Springfield and Hayfield before upsetting Robinson (19-6 record), three games to one, in a region semifinals match triumph last Thursday.
That put the Saxons into last Saturday night's finals against South County, which had reached the title match with a semis win over Stone Bridge. The Stallions got the better of play against Shifflett's bunch and defeated the Saxons, three games to one, for the title. Both Langley and South County, by reaching the finals, qualified for this week's state AAA tournament.
<b>THE REGION FINALS LOSS</b> hardly spoiled what has been a postseason joyride for the Saxons (16-7), who return to the state playoffs for the second time in three years. Langley was scheduled to travel to Loudoun Valley (Purcellville) for a state quarterfinals match on Tuesday of this week. Valley (20-5) is a part of the Cedar Run District and a member of the Northwest Region.
Langley hosted Loudoun Valley during a regular season match on Sept. 24. The Vikings topped the Saxons, 3-1, that night.
"They are strong all the way across the board," said Shifflett.
The first round state playoff winner was scheduled to advance to Thursday night's state semifinals at Virginia Commonwealth University's Siegel Center in Richmond. Langley, if it moves on to Richmond, would play the second semifinals contest on Thursday at 8. The region finals are scheduled for Saturday afternoon at 2:30, also at VCU.
Langley played one of its best matches of the season in its region semifinals triumph over Robinson last week.
"We just played so well against them," said Shifflett. "We had to play one of our best matches to beat them. It really was a whole team effort."
Then at the region finals, Langley started off well before South County re-grouped.
"South County was really nervous at the beginning," said Shifflett. "Once they settled in and got their passing going, we got a little down."
Both Richardson, this year's Liberty District Player of the Year, and Caine were named to the All-Tournament team.
Members of this year's state qualifying Langley volleyball team are: Christine Baek, Kathryn Caine, Nikki Hero, Olivia Justus, Maddie Kotoriy, Lainey Le Blanc, Maureen Marsh, Kat Ngov, Carlie Owen, Allison Prell, Elysse Richardson and Lindsay Warden.