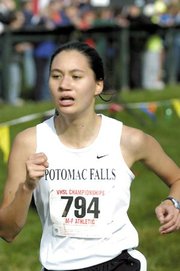 Perhaps, Potomac Falls High cross country coach Dolph Null never should have been concerned about the focus of his boys' and girls' teams going into last week's Virginia State AA championships. But part of a coach's job description is to be sure about such things.
Null, prior to states, was thrilled with the way his teams had excelled at the Region II championships in Charlottesville on Nov. 3. The Panther boys, on the Panorama Farms 5K course, had captured the team title, while the Panther girls had finished an impressive third. Many of the state's top double-A schools compete in Region II, so Null realized just what his squads had accomplished by faring so well at the region meet.
But he did not want his teams to have a letdown at states, so during the week leading up to the season-finale showcase event, Null encouraged his athletes to hold onto their competitive mindset for one more week.
"To be able to maintain the same focus [at states] is sometimes real hard," said Null. "It's about holding that focus for one more week. It's really been a long season [at that point] and the kids have sacrificed a lot. It's hard for a young person to maintain focus."
Potomac Falls, at the state competition held in The Plains on Nov. 14, came up with big results once again as the boys earned third place in the team standings, while the girls took fourth place.
For both teams, it was an outstanding showing which would have been difficult to top. Races in all divisions – boys and girls single-A (smaller schools), double-A (middle sized) and triple-A (larger schools) – took place at the Great Meadows course. The Panther teams competed in the double-A races.
"I thought they did a great job," said Null. "I thanked both the girls and the boys for getting back to the state meet. They worked hard all season."
The Panthers' began their fall cross country season on Aug. 3 – still part of a students' summer vacation time – and worked hard and progressed, on both the girls' and boys' sides, for the next three-and-a-half months.
The top three teams at states earned medals and were recognized during post race ceremonies. The Panther boys enjoyed that honor of being recognized on the podium stand. The girls, meanwhile, missed finishing in the top three but had plenty to be proud of nonetheless.
The fourth place Potomac Falls girls finished with 114 points. The team champion was Hidden Valley (40 points) of Roanoke, followed by second place Blacksburg High (54) and third place Western Albemarle (95) of Crozet. Brentsville District (126) of Nokesville finished fifth behind Potomac Falls, while Loudoun County (147) was sixth in the field of 16 teams.
Finishing ahead of Brentsville was quite an accomplishment for Potomac Falls because it was the Tigers who captured first place at the Region II championships two weeks ago, ahead of third place Potomac Falls.
"To beat region champion Brentsville [at states] means you have to run exceptionally well," said Null.
The Panthers' top three individual finishers at states were senior Natalie Wright (8th overall), senior Christina Lee (12th) and sophomore Koeley Brady (21st). Rounding out the pack for Potomac Falls were senior Rachel Diniega (35th), junior Rachel Hagen (38th), freshman Ariana Staffen (43rd) and senior Chelsea King (64th).
A year ago at states, the Panther girls finished fifth overall. So last week's fourth place finish was one place better.
"We were just shy of making the podium this year," said Null.
<b>ON THE BOYS' SIDE</b>, Potomac Falls scored 134 team points to finish third, behind champion Blacksburg (51) and runner-up Spotswood of Penn Laird (131). Grafton High (137) of Yorktown finished fourth behind Potomac Falls.
The Panthers' top three finishers were junior Juan Campos (12th overall), junior Nicholas Mogensen (24th) and senior Chris Johnson (29th). Also competing for Potomac Falls were senior Alvaro Morales (31st), junior Patrick Wilson (38th), senior Michael Volaric (39th) and senior Rennix Offutt (57th).
The Blacksburg team was a dominant force, with five runners finishing among the top 15 finishers.
"Blacksburg was literally untouchable," said Null. "They definitely dominated the double-A competition. After that, it was wide open. I stressed to the boys [prior to the race] we had a chance for second. That was pretty much the case. We finished three points behind [second place] Spotswood."
The coach said his boys' team did not run exceptionally well at states, but he was pleased with the Panthers' grit at states and its fine season overall.
"Our strength [over the season] was we ran collectively as a pack and as a team," said Null, of the boys.
Both the Panther boys' and girls' teams won first place at the Dulles District championships earlier this postseason.