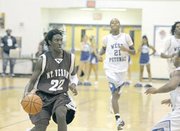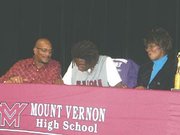 Skylar Jones wasn't always a college-caliber athlete. In fact, he had trouble just staying on his feet.
"When I was young, I was really clumsy," the Mount Vernon senior said. "I learned how to stay on my feet and get balanced. Once I learned how to stay balanced, the sky was the limit from there."
Jones might have taken his fair share of tumbles. But once he found his balance, he found a gift which will help him get a college education.
Jones, the 2009 National District Player of the Year, signed a letter of intent on Nov. 11 to play basketball at Niagara University. Coaches, teammates, friends and family celebrated the event with a signing party at Mount Vernon High School.
Niagara, located in New York, is a member of the Metro Atlantic Athletic Conference. The Purple Eagles advanced to the NCAA Tournament in 2005 and 2007 by winning the conference tournament under head coach Joe Mihalich. Niagara was Jones' first visit. He enjoyed his time there so much he didn't bother visiting any other schools.
"It felt like home," Jones said. "I was comfortable with all the players and coaches and I just didn't want to leave — that's how comfortable it was."
Jones' mother, Sam, said she was hesitant when her son made such a quick decision, but he convinced her it was the right choice.
"I wanted him to see other schools before he made a decision," Sam said. "But ultimately, the decision was his. It had to be a good fit for him. Once he answered my … basic questions, then I [supported him] going to Niagara. … I feel great. I'm very proud of him."
MAKING A DECISION early in the signing process allows Jones to focus on his senior season with the Majors, who are the defending district champions. Mount Vernon went undefeated during district play and won 19 consecutive games before losing to Hayfield in the regional semifinal.
"I've worked all my life just to get to this point. Now it's time to move on and get bigger goals and get ready for the season," Jones said. Signing quickly "was important to me. I wanted to make an early but decisive decision so I could just focus on the season. High school means a lot to me. I've been in the same school for four years and I've known these people all my life. I just want to go out with a bang."
The 6-foot-4 Jones was named National District Defensive Player of the Year and first-team all-Northern Region as a junior. This season, he is expected to play up to four different positions for a Majors team lacking in height.
"He's an all-around player," Mount Vernon head coach Alfonso Smith said. "We feed off his diverse abilities."
Jones brings joy to others with more than just his performance on the hardwood. His sense of humor brings smiles to the faces of friends and family.
"He's a joy to be around," Smith said. "He has a maturity beyond his years. His teachers comment all the time. … He's not someone that's going to come in your class and just sit perfectly quiet, but he's a personable kid."
HE ALSO showed ability in the classroom, earning a place on the first quarter honor roll.
"For him to make the honor roll," Jones' dad, Wayne, said, "it shows that he's committed."
Wayne also said Jones doesn't allow his accomplishments to affect his attitude.
"He's a very humble kid, surprisingly," Wayne said. "I'll be the one on the Internet looking at stuff, [reading] the paper [and] I'll be talking to him and he'll be like, 'Oh, yeah dad.' You don't see him get excited or anything and he doesn't think he's above anybody else. He's very down to earth."
Jones is the third Mount Vernon player to sign with a Division I school during Smith's six-season tenure as head coach. E.J. Johnson, a 2006 graduate, signed with Longwood and 2008 graduate Marquel De Lancey signed with Old Dominion.
Smith said while producing Division I talent is a positive for the Mount Vernon program, it also reflects well on the National District and Northern Region.
"There's a lot of different private schools here in the area," Smith said. "But for the ones who stay [in public schools] and actually play, it's a testament to their hard work and the fact that, hey, if you can play, even in a public school, [colleges] will find you. … We're very proud of him."