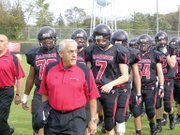 Madison was not considered a true Div. 5 Northern Region football contender midway through the fall season. But when the Warhawks upset two-time defending region champion Stone Bridge, 28-14, in Ashburn on Oct. 19, that all changed.
Madison, which had lost to South Lakes a week earlier on its own homecoming to fall to 3-3, shocked the region with its bounce-back victory over the Bulldogs. Thereafter, Madison, under coach Gordon Leib, won two of its final three regular season games to finish with a healthy 6-4 record. Then, in its first round Div. 5 playoff game against visiting Edison last Friday night, the Warhawks defeated the Eagles, 31-10.
Now, wouldn't you know it, Madison is set to travel to Ashburn once again for a second meeting against the same Stone Bridge team it upset last month. The semifinals game will take place this Friday night at 7:30.
Stone Bridge (10-1) has just one loss this fall, that coming to Madison. The Bulldogs, under coach Mickey Thompson, were 28-7 winners over South Lakes in their playoff opener last week.
Madison, in last week's playoff win, bested an Edison team that is annually one of the top teams in the region. The win was the third in a row for the Warhawks (7-4).
Madison, behind an 11-yard scoring run by quarterback Eric Roland and a 29-yard field goal by James Devens, held a 10-7 halftime lead over the Eagles. But Madison scored two touchdowns in the third quarter – a one-yard run by Tavin Thomas (138 yards rushing) and a 44-yard passing strike from Roland to Ryan Mcguire – to take control of the game and a 24-10 advantage going into the fourth quarter.
A two-yard scoring run by Thomas accounted for the game's final touchdown in the final quarter. Along with Thomas' strong rushing game, the Warhawks also received good production from back Tyler Wilkinson (78 yards).
Now, it's Stone Bridge. In Madison's win over the Bulldogs during the regular season, Thomas had a solid game with 89 yards rushing. Meanwhile, the Warhawks' defense held Bulldog standout running back Marcus Harris to 31 yards on 13 carries. Madison will need big games on both sides of the line to prevail over Stone Bridge again.