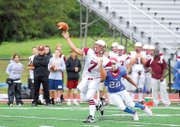 Oakton High football coach Joe Thompson paid credit where it was due following his team's season-ending, 31-16, Div. 6 Northern Region playoff loss to host W.T. Woodson last Friday night.
"Woodson didn't make any mistakes and played very well," said Thompson. "Offensively, they moved the football. They made more plays than we did. Our kids hung in there."
Oakton, which finished 5-6 this season, was less experienced than last year's 2008 Cougars' squad that captured the Div. 6 region championship. This fall, Oakton started well, winning three of its first four games. But the Cougars won just two of their final seven games.
Thompson said his team's effort was solid all season long. Oakton simply could never put things all together on the field.
"I think we performed inconsistently," said Thompson. "We couldn't get the consistency in practices or in games. We just had a tough season. These are great kids; we just had a tough season. We should have been able to win a couple more games. Our kids played hard with a lot of passion and intensity."
Woodson (10-1), which will host South County in a Div. 6 semifinals game this Friday night, won the battle of field position against Oakton. On three different occasions, the Cougars began drives inside their own one-yard line. Meanwhile, the Cavaliers were regularly beginning possessions at around the midfield area.
Oakton had a poor night on special teams, especially in punting situations. The Cougars struggled in their punt return efforts and also had one scenario where they were not able to get a punt down field following a bad snap.
"We made some big mistakes on special teams that cost us," said Thompson.
<b>OAKTON</b>, which trailed 17-3 at halftime and 24-3 in the fourth quarter, showed resilience by fighting back with two fourth quarter touchdowns to get within 24-16. But the Cavaliers iced the game with a late touchdown.
Oakton junior quarterback Jimmy Boone, completing his first season as the Cougars' starting signal caller, had a busy night throwing the football. He completed 21-of-39 passes for 246 yards with a touchdown and an interception. The scoring strike was a 46-yarder to Luke Willis in the final quarter. Boone also ran the football 13 times for 47 yards.
Oakton's leading ball carrier was senior running back Alvaro Cabal, who rushed for 66 yards on 20 carries and scored one touchdown from a yard out.
Oakton's lone first half points came on a 25-yard field goal by senior Ray Goins in the second quarter, which got the Cougars within 7-3. Goins, a team captain, was Oakton's top receiver for the game, grabbing seven balls for 64 yards. Other big receiving nights for Oakton came from Willis (4 catches, 86 yards), Tuck Masker (5 for 70) and Matt Chandler (4 for 23).
Woodson quarterback Connor Reilly (9-of-18, 84 yards) threw a touchdown pass and ran for a touchdown as well. The scoring pass was a 22-yard hook-up with running back Jonathan Stokes. James Johnson (88 yards rushing) was the Cavaliers' leading ball carrier.
Woodson's only loss this season came in a week three road setback at Lee, 27-7. Since then, the Cavaliers have won eight in a row. Oakton's wins this season came over Madison, West Springfield, Annandale, Herndon and Chantilly.