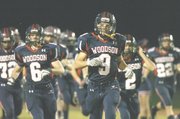 W.T. Woodson High School head varsity football coach Trey Taylor only needed a few words to remind his team how precarious a playoff position really is. He used Patriot District rival Lake Braddock Secondary School's recent 19-14 victory against Fairfax as a parable.
"Lake Braddock overlooked Fairfax," Taylor said. "[Lake Braddock] barely beat them. Their season was almost over right then. Anyone can beat anyone in the playoffs."
With a bout with South County Secondary School looming on Nov. 20, the Cavaliers are quickly trying to forget that they dominated the Stallions 35-0 on Nov. 6.
"If you don't show up for one week, then that's the end of your season," Taylor said. "We haven't practiced well and if we have that attitude on Friday, South County will beat us by 70."
South County advanced to the Northern Region semi-finals by stunning Westfield High School 27-23 on Nov. 14, scoring 16 points in the second quarter to upset the Concorde District champions.
"South County is not going to lay down," Taylor said. "We saw that in the Westfield game. They're going to play until the end."
Taylor's concern about falling asleep on South County also has rubbed off on the Cavaliers' senior leaders.
"The South County team that we played [on Nov. 6] is not the same team we played," said quarterback Connor Reilly. "South County was hungry for a victory and they went out and played for a victory. They're going to be gunning for us."
But forgetting the recent 35-0 victory over South County isn't going to be an easy task, Reilly said.
"It's very difficult," he said. "We looked past Lee High School because we had beaten Lake Braddock. Hopefully, we will have learned our lesson from that."
The team is trying also to keep up the intensity it created by defeating Oakton High School 31-16 on Nov. 13 in the first game of the playoffs.
In the victory against Oakton, the Cavaliers cruised to a victory thanks to two 60-plus yard rushes from senior James Johnson and junior Paul Fridley.
Johnson finished the game with 87 yards of rushing while Reilly finished with 85 yards of passing.
"We pride ourselves on our running game," Taylor said. "Our biggest passing game was against Lake Braddock, but since then, our run has been very successful."
Despite the strong playoff win against Oakton, the Cavaliers' seniors are hoping coach Taylor's sense of urgency will rub off on the younger players.
"We have to come out with the mentality that we are the lesser team," Johnson said. "It's not hard for the seniors to understand that this could be our last game. We have to get the younger guys to understand it, too."
South County plays Woodson on Nov. 20 at 7:30 p.m. at W.T. Woodson High School.
Lake Braddock and Robinson secondary schools face off in the other Northern Region semi-final on Nov. 20.