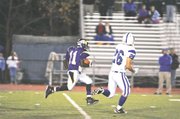 Running back Osman Mansaray doesn't mind that the Lake Braddock Secondary School football team has adopted the spread offense, an offense that limits the number of times he'll carry the football in favor of passing.
On Nov. 13, he proved that the Bruins aren't a one-dimensional football team by leading Lake Braddock to a 19-14 victory over Fairfax High School in the first round of the Virginia Division 6 AAA playoffs.
"It was awesome to run the ball a lot," Mansaray said. "Usually, we've just been passing. It was nice to finally run more than we pass."
Intermittent rain hampered the Bruins' spread offense passing attack, so when the speedy runner was called upon to carry the load for the Bruins, his eyes grew wide at the opportunity.
Mansaray answered the call by rushing for 150 yards, a season high for the senior.
"I'm part of the passing game, but we showed that we can do more than just pass," he said. "I take every single rush that I get in a game very seriously."
Quarterback Michael Nebrich was able to connect on a 25-yard pass to Brandon Johnson, but was held to only 80 total passing yards on 14 attempts.
"It helps [the rushing game] when you have a quarterback who can really throw the ball," said head coach James Poythress.
The rushing attack harkened back to the days when Poythress relied on a rushing game to put points on the scoreboard.
Although the team is now fueled by assistant head coach Bill Renner's spread offense, Poythress said that the Bruins' rushing ways haven't waned.
"If that's what teams want to give us, then we'll take it," Poythress said. "If a team puts six or seven kids in the box, we'll throw the football, but if they don't, then we can rush."
While the Bruins will advance in the playoffs, Poythress said his team battled with overlooking its opponent.
Fairfax, which had not reached playoffs since 1999 and lost to Lake Braddock 42-7 in a pre-season scrimmage, proved to be a worthy opponent for the Bruins.
"We scrimmaged Fairfax earlier in the year and our team's attitude was that we'd blow them out," Poythress said. "But when it didn't happen, our team got a deer in the headlights look. We had to get past that."
The Bruins now advance to play Robinson Secondary School on Nov. 20. The Rams handed Lake Braddock one of its two regular season, 28-21, on Oct. 2, but the Bruins are confident they have Robinson's number this time.
"We have the best rushing defense," Mansaray said. "We can shut them down."
Although shutting down Robinson's formidable rushing game, spearheaded by Jared Velasquez and Connor Riley, will be a challenge.
"We've got to be a little more physical against Robinson, which is very tough considering how intense they are," Poythress said. "If we can't meet that intensity on both sides of the ball, we'll be handing in our equipment on Friday."