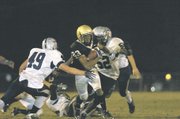 For a quarter and a half during the first round of the Div. 6 AAA Northern Region football playoffs on Nov. 14, it seemed as if the No. 4 seeded Westfield High School Bulldogs could do no wrong against South County Secondary School.
The Bulldogs were led by strong play on both sides of the ball in the first half. Defensive back Ryan Sweet's two interceptions and a field goal block helped suffocate South County's offensive attack while junior running back Bryan Monticue's 17-yard rushing touchdown sprung Westfield to a 23-7 lead early in the second quarter.
Although the Bulldogs seemed invincible for a short period of time, 16 unanswered points scored late in the second quarter by South County doomed the Bulldogs.
Westfield couldn't crack an equally impressive performance by the Stallions' defense in the second half and never recovered from the 16-point breakdown. The Stallions went on to win 27-23.
"[South County] made a few adjustments after we took the lead and we just couldn't get our throwing game going," Westfield head coach Tom Verbanic said.
While the Bulldogs' rushing attack played the role of workhorse, rushing for 160 yards, quarterback Danny Fenyak and the Bulldogs' receivers were only able to amass 33 passing yards on the night.
Verbanic said the inconsistent passing game and reliance on the run crippled the Bulldogs' offense.
"We weren't as balanced as we have been all year and that hurt us," Verbanic said. "You can't live just doing one thing in a football game."
Further adding to the Bulldogs' troubles was that the usually rock-steady defense wasn't able to contain South County's playmakers at critical moments.
"We don't give up big plays very often," Verbanic said. "But South County was able to hit those big plays."
Despite the lapse in coverage in the second quarter, the defense shut out the Stallions' offense in the second half, keeping the Bulldogs within striking distance.
As the final seconds counted down on the clock, and the players' looks of hope turned to disappointment, Verbanic said he used his final post-game talk to remind his team how far they had come.
The Bulldogs, who started the season 1-4, fought back from the sluggish start to secure their sixth Concorde District title in nine years.
"[The district title] is what we talked about on the field after the game," Verbanic said. "Maybe we sat back and enjoyed [the title] too much, but we accomplished something that nobody thought we could do."
As Verbanic led the 2009 Bulldogs off the field for the last time to their locker room, he took a moment to reflect on how this season's team will be remembered in Westfield's football tradition.
"I will remember the great attitude of the seniors, who at 1-4 refused to give up," Verbanic said. "They willed our way to a championship. It was incredible."