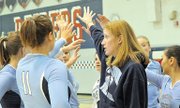 Unsure of her next move, Brittanie Stowell's desire to live in a big city led her to Washington, D.C. shortly after her 2005 graduation from Indiana State. She accepted a job as a nanny, but that was only temporary. Nothing was set in stone, but a short stay on the East Coast before moving back to her home state of Michigan seemed logical.
But more than four years later, Stowell's still here. Except it's not Brittanie Stowell anymore. It's Brittanie Behar. She met Chris Behar through match.com and, after dating for more than three years, the two were married Aug. 23. She also was a preschool teacher, a substitute teacher, moved to Arlington and is working toward earning her master's degree in elementary education from Marymount University.
While life has taken Behar down an unexpected path, one thing has remained constant for the 26-year-old from Kalamazoo: her love for volleyball. After a standout career as a middle hitter at Indiana State, Behar has coached for two different volleyball clubs — Metro-American and Arlington — since moving to the East Coast, and is the head varsity coach at Yorktown High School. Behar completed her fourth season with the Patriots on Nov. 9 with a 3-1 loss to Herndon in the opening round of the regional tournament.
While the team hoped for a deeper advance in the postseason, Behar's body of work at Yorktown still has plenty of bright spots: four winning seasons, two National District championships, a pair of runner-up finishes and one district Coach of the Year award.
BEHAR LED Yorktown to the district title in 2006 and 2008, and the Patriots appeared on their way to another championship in 2009 before senior standout Elyse Bush suffered a season-ending knee injury in the team's regular season finale on Oct. 28. Yorktown lost to Washington-Lee that night — the Patriots' first district loss since 2007. Without Bush, who was twice named district Player of the Year and first-team All-Northern Region, Yorktown lost in the district championship match to Hayfield (the Patriots swept the Hawks in an earlier meeting).
The Yorktown program started experiencing success in terms of district titles before Behar arrived, winning at least a share in 2004 and 2005. But Behar said when she took the job, the quality of volleyball had room for improvement. Players did not have set positions. Some athletes had never played prior to high school and club volleyball wasn't very popular in the Arlington area.
Behar made some changes, and she said all of the 2009 Patriots have at least one year of club volleyball under their belts.
"I feel the major difference," Behar said, "is the general level of volleyball has increased."
Behar said memories of her playing days have helped her as a coach.
"I had a lot of experience playing when I started coaching," she said. "The big way it has helped me is I try to remember all the things my coaches did well."
SHE ALSO THINKS about what her coaches didn't do well. Any unpleasant volleyball-related memories have made making volleyball fun for her players a priority for Behar.
While thoughts of her playing days have aided Behar, past production on the court furthers her credentials. Behar, a four-year starter at Indiana State, ranks second on the school's all-time hitting percentage list with a .270 clip. She's also fifth on the all-time kills list (1,174), fifth in career attacks (2,887), fifth in block assists (253) and sixth in total blocks (304). Her .305 hitting percentage in 2003 is the school's fourth-best single-season mark.
Against Bradley on Nov. 21, 2003, she recorded the second-highest single-game kill total in school history (28), and the third-highest single-game hitting percentage (.605).
Sophomore middle Ashley Rock, a first-team all-district selection for Yorktown, said she respects Behar's experience as a college player.
"I really like her as a coach," Rock said. "I would definitely feel more comfortable being coached by someone who played college volleyball. … She understands what happens in the game. She's experienced what we go through on the court. … That's helped a lot."
Senior setter Libby Kane said she values Behar's input.
"I was just having a conversation with [freshman] Katie Rock last night because she wants to play in college," Kane said. "I was like, 'You shouldn't be talking to me, you should be talking to Brittanie.' I feel no matter what, regardless of what you're talking about, anything volleyball related, she knows the answer to. I definitely trust her more than anyone else."
Behar said she's very competitive when it comes to volleyball. She enjoys playing during the summer, but doesn't play with her team during in-season practices. She said focusing as an observer allows her to be a better coach and correct mistakes.
NEXT SEASON will be a challenge for Behar. She will be without Bush, a four-time all-district selection, for the first time and will have to replace Kane at the setter position. Kaley Burlingame, who played junior varsity as a sophomore this season, will likely be the varsity setter next year. Ashley Rock and Katie Rock will be relied on for kills. Malaika Bain-Peachey showed potential while filling in for Bush at the end of the season.
Now that volleyball season is over, Behar will be busy with other activities, including leaving with Chris this weekend for their honeymoon in Italy.
"I moved here more or less because I had never really lived in a big city," Behar said. "I wasn't really sure what I wanted to do as far as job-wise. I planned on living here two or three years at the most and moving back home … but things change."