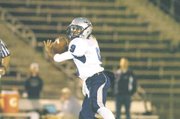 South County Secondary School's Division 6 AAA playoff match with Westfield High School on Nov. 14 wasn't just a chance for the Stallions to extend the season by at least one more week.
For senior quarterback Aaron Andrews, it was also his chance to avenge an ugly 40-13 loss to Westfield during his first varsity season on Nov. 9, 2007.
"I started as a sophomore [against Westfield] and it didn't have a good turnout," Andrews said. "But I've learned to play with my teammates who I've been around for three years."
Andrews ran for 55 yards, threw for 130 yards and ran in a nine-yard touchdown in South County's 27-23 victory over the Bulldogs.
"Three years ago, we came out here and [Andrews] got the tar beat out of him," said South County head coach Pete Bendorf. "He played his butt off tonight and made big plays for us."
The victory against Westfield, however, wasn't a one-sided affair.
The Stallions charged out to a 7-0 lead in the first quarter, but gave up 23 points before managing to break the Westfield attack.
"We didn't do a very good job tackling," Bendorf said. "We had to get adjusted to the game."
The Stallions trailed the Bulldogs 23-7 in the middle of the second quarter, but a late second-quarter rally led by Andrews and senior running back David Jordan put 16 unanswered points on the board, giving the Stallions a 27-23 lead at the half.
"Jordan had a rough week against Woodson and turned the ball over twice," Bendorf said. "But he came to play and he's got great character. He got it done tonight."
Jordan finished the game with 80 yards and two rushing touchdowns.
According to South County defensive back Mark Jorgenson, the decisive moment in the game came during halftime, when the South County defensive coaches gave an impassioned speech to fire up their squad.
"It the best pep talk we could have," Jorgenson said. "They stared at us for a good minute or two and then just let loose and got our hearts pumping."
Although the first half was a wild, back-and-forth game between two potent offenses, the second half saw the Stallions' defense emerge as the team's playmaker.
Jorgenson delivered the game-winning play for the Stallions when he intercepted Westfield quarterback Danny Fenyak's pass late in the fourth quarter.
"I felt like the game was put away," Jorgenson said. "We started out shaky in the beginning, but we came together in the end."
The Stallions now face No 1.-seeded W.T. Woodson High School on Nov. 20 at Woodson.
The Cavaliers' powerful offense, led by quarterback Connor Reilly and running back James Johnson, will test South County's defense, but Bendorf said the key to the game is to establish an offensive rhythm early.
"We have just got to continue being consistent on offense," Bendorf said. "We've got a good defense, but we've got our hands full with Woodson next week."
South County's regular season ended with a 35-0 loss to the Cavaliers, and quarterback Andrews said his team is anxious for a re-match.
"We have a score to settle with them," he said.