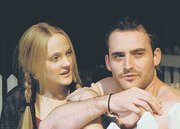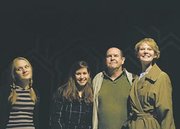 Some plays deal with the heaviest of subjects in the lightest way, while others deal with light and trivial topics with a strange heft. The best plays, however, find a match between the seriousness of their subject and the style of presentation. This is what "Lie With Me," the new play by Charter Theater's Artistic Director, Keith Bridges, which is being produced at Arlington's Theatre on the Run accomplishes, and while its topic makes it anything but a light piece of entertainment, it delivers quite a wallop.
The topic? About as heavy as you can imagine. It is a play about sexual abuse within a family. And it isn't confined to just one couple or one generation. The abuse spans decades.
The style? A straight portrayal of the emotional havoc wreaked on all concerned. This isn't a tabloid-style piece of erotic titillation, but it isn't a glossed over collection of bromides or sanctimonious posturing either. Each of the characters display the pain and damage the abuse has caused.
Jim Brady plays the father who can't admit that he harmed his daughter by carrying on an incestuous relationship with her over a period of years. His performance is the most compelling all evening long, although it is at times very hard to watch as he shows the weight of shame and sorrow he is carrying into old age, alternating with his attempt to deny his guilt. He can actually say to his victim: "It wasn't something I did to you, it was something we did."
Rana Kay is the daughter who, having grown old enough to flee, has done just that. She burns with anger and an inability to comprehend just how her mother could have not intervened.
That mother is confined to her bed throughout the play and she's a victim herself. As a child she suffered the same fate her daughter did and she never overcame its devastating effect on her own sense of self worth and understanding of the role of a parent. Maura McGinn is positively searing as the mother when she's awake enough to lash out, and her outburst toward her second-generation victim daughter is gut-wrenching as she screams "you stole my husband!"
Bridges obviously isn't pulling any punches in his script. But just in case you miss some of the points, he adds a younger sister who can't quite understand why her father would have preferred the older sister to herself, and a boyfriend of the older sister who wants to help put the pains of the past in the past. Neither are simple roles. Liz Brown is brutally open as the younger sister who has taken to slicing herself with razor blades just to feel honest pain, and Ryan Mulkay nicely handles the confusion of a young man getting in over his head in a family whose dynamics he can't understand.
It is a topic that is as old as the Bible (the first biblical story of incest comes in just the 19th chapter of the first book, Genesis) and as current as the morning paper with the attention being given to Mackenzie Phillips' revelations of the abuse visited on her by her father, the Mamas and the Papas' John Phillips.
Here it is given an intelligent exploration of the consequences that pervade an entire family.
***
Brad Hathaway reviews theater in Virginia, Washington and Maryland as well as Broadway, and edits Potomac Stages, a Web site covering theater in the region (www.PotomacStages.com). He can be reached at Brad@PotomacStages.com.