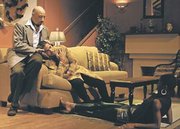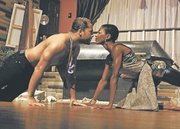 The Little Theatre of Alexandria and director C. Evans Kirk have unearthed a little gem of a comedy mystery and are giving it a superb production that features three strikingly good performances out of a cast of only four.
"Art of Murder" is a convoluted story of jealousy, murder and the marketing of art. It sounds like a strange combination of topics, but the script carries the audience along without confusion and director C. Evans Kirk keeps the pace nicely balanced so there is no feeling of being rushed, yet things don't bog down. At least they don't until late in the second act when there is a bit of a lull as the loose ends of the complicated plot are finally tied up.
Brandon DeGroat is appropriately hateful as an artist with an ego the size of a small ICBM. "I'm an artist — never judge me," he bellows at both his wife and his agent. He's in the habit of enclosing himself in an isolation tank, which is also the size of a small missile, and looks like one as well. (Set construction chief Dan Remmers designed the tank especially for this production.) DeGroat has demonstrated charm and humor on this stage before (most notably in "The Teahouse of the August Moon"), but bares an unsuspected mean streak for this role. That isn't all he bares, as there is a brief moment of nudity as well.
Danielle Eure, who was so impressive here in "Intimate Apparel" two years ago, returns as the artist's wife, stretched to her limit by the intimidation of her husband. She's elegantly energetic, delivering a well constructed performance that avoids telegraphing any of the surprise twists of the plot while giving each one of them a solid foundation so once the twist is revealed, it makes perfect sense.
The third strikingly good performance comes from Carl Nubile who brings his fabulously mellifluous voice and strong stage presence to the role of the art dealer/agent who couldn't care less who paints what as long as he can make his commission.
The fourth member of the cast is Nicole White. Hers is a small but memorable part and she is perfectly satisfactory in it. She's the housekeeper who is supposed to have the night off but who somehow shows up in the middle of the felonious events of the evening.
"Art of Murder" is by Joe DiPietro, who has turned out a wide variety of scripts in the past decade or so. It was his script for "Over the River and Through the Woods" that was given such a fine production on this same stage in 2004. He's the one who re-wrote the script for Rodgers and Hammerstein's "Allegro" for Signature Theatre in Arlington. He crafted the off-Broadway hit musical "I Love You, You're Perfect, Now Change" and Broadway musicals such as the Elvis songbook musical "All Shook Up" and the new musical "Memphis" that opened just last month.
The production plays out on a single set, which as is so often the case at the Little Theatre of Alexandria, is well designed and solidly constructed. At the performance we attended the lighting design seemed a bit off, as there were specific effects obviously built into the storytelling that didn't quite work. But that set, and its "isolation chamber," make quite an impression.
***
Brad Hathaway reviews theater in Virginia, Washington and Maryland as well as Broadway, and edits Potomac Stages, a Web site covering theater in the region (www.PotomacStages.com). He can be reached at Brad@PotomacStages.com.